Whirly Bird Helicopter
Fun to make and even more fun to fly, the whirly bird helicopter twirls through the air.
What You'll Need:
3X8 1/4-inch yellow cardstock

Decorative stickers
Tools:
Tracing paper

Paper clips

Pencil

Ruler

Carbon paper

Scissors
How to Make a Whirly Bird Helicopter:
Step 1: Download the Helicopter Pattern as a PDF. Place tracing paper over the pattern, and secure with paper clips. With a pencil, trace over all the lines, including cutting and folding lines. Use a ruler to help trace straight lines. Remove tracing paper from the pattern.
Step 2: Place carbon paper between the cardstock and the tracing paper pattern. Paper clip the three together and trace over all the lines to transfer the pattern onto the cardstock. Remove the clips. Cut out. Make the three cuts as indicated on the pattern.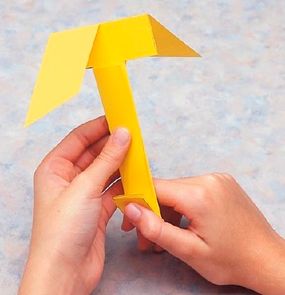 Fold and cut the helicopter
Step 3: Fold section C forward and section D backward. Bend the stem up at E. Fold A forward and B backward. Decorate with stickers.
For more paper crafts for kids, check out: