In the fall of 1969, CBS and Hanna-Barbera Productions launched an animated half-hour comedy starring a cowardly but lovable Great Dane who traveled the world with his four human friends to solve spooky mysteries. Everyone involved was banking on the show's success, but nobody could have predicted that Scooby-Doo would become one of the most durable and popular cartoon characters of all time.
The history of Scooby-Doo and his gang -- Fred, Daphne, Velma, and Shaggy -- is a fascinating one. With the help of two creative forces behind Scooby-Doo who span the character's entire career -- Iwao Takamoto, vice president of creative design for Hanna-Barbera Cartoons, Inc. (which is now owned by Warner Bros.), and Eric Radomski, supervising producer of the most recent series, "Shaggy and Scooby-Doo Get A Clue!" on the CW Network -- we offer a behind-the-scenes look at these venerable characters.
The Birth of "Scooby-Doo"
Like most cartoon characters, Scooby-Doo did not spring forth fully formed. The first series, "Scooby-Doo, Where Are You!," went through many developmental changes and alterations along the way -- in fact, the first passes at the show did not even star a dog.
The impetus for "Scooby-Doo" came from Fred Silverman, who was then the head of children's programming for CBS. Silverman was looking for a different kind of animated show. He wanted one that, among other things, employed full half-hour episodes instead of the shorter cartoon groupings that were the Saturday morning norm. To achieve his goal, he called on Bill Hanna and Joe Barbera, whose namesake company, Hanna-Barbera, was responsible for the majority of all animation on television.
Children's Television Image Gallery
­SCOOBY-DOO and all related characters and elements are trademarks of
and copyright Hanna-Barbera.
The gang solves a mystery in the first series, "Scooby-Doo,
Where Are You!" See more pictures from children's television shows.
Where Are You!" See more pictures from children's television shows.
"Fred came in and talked to us about doing a full beginning-to-end story that had enough time to have a little substance to it," said Takamoto. "He wanted to have a true half-hour show instead of the tricky breakdown kind of stuff that we had been relying upon and he had been programming for a couple of years." Silverman also wanted something within the mystery format, similar to the old radio show "I Love A Mystery."
Two young writers, Joe Ruby and Ken Spears, got the assignment of developing the show, which they initially conceived as a straightforward mystery/adventure centered on five teenagers. Eventually a dog character was added, but only as a comic-relief sidekick. As development progressed, the emphasis was shifted away from serious thrills and toward comedy. The dog began to play a larger role, eventually becoming the titular star of "Scooby-Doo, Where Are You!" Earlier working titles included "Mystery's Five" and "Who's Scared?" The original "Scooby-Doo" premiered on September 13, 1969. It was an immediate hit.
"Shaggy & Scooby-Doo Get A Clue!"
"Shaggy & Scooby-Doo Get A Clue!"
The latest series in the Scooby franchise, "Shaggy & Scooby Get A Clue!," contemporizes the classic characters in both tone and appearance. "The request from Warner Bros. was to stimulate the Shaggy/Scooby brand," said Radomski. "Comedy is king in Saturday morning cartoons, so [show developer] Ray DeLaurentis pitched a 'Dumb and Dumber' approach for the show -- 'Dumb and Dumber' being the epitome of 'buddy comedies."
That model also meant that the rest of the gang -- Fred, Velma, and Daphne -- now had to take a back seat to the primary comedy team of Shaggy and Scooby. "Attempting to include the rest of the gang in a show like this would have been difficult and cumbersome," Radomski said. The three do, however, show up occasionally in cameo guest-appearances.
This is not the first time Shaggy and Scooby have been separated out from the group -- they were on their own throughout many of the 1980s shows.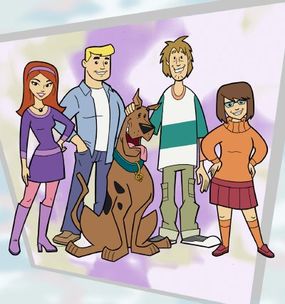 Similarly, the graphic style of the show has been altered. The designs of Shaggy and Scooby are a bit simpler, and they no longer have whites in their eyes (known as "dot eyes" in animation). "The contemporary art direction for the characters was chosen specifically to distinguish this series from all of the previous incarnations," Radomski said. "Also, the obvious graphic approach is a reflection of the popular digital aesthetic so prevalent in animated shows today. The 'dot eyes' seemed to blend well with the overall graphic simplification we were going for."
One thing that has not changed is the universal appeal of "Scooby-Doo." "The 6-to-11-[year-old] demographic is definitely the target of the CW Network," Radomski said. "But I never allow it to restrict my team from making shows that appeal to a much broader audience. There is no better compliment than hearing that older siblings and parents are watching and enjoying our shows, too."
"Scooby-Doo" and education? It's an interesting subject -- and we cover it in the next section.