Hover Craft Helicopter
You'll seem to float through the air while watching your hover craft helicopter levitate.
What You'll Need:
5-inch-square corrugated cardboard, 1/8-inch thick

Pop-up squirt-bottle cap

Purple acrylic paint

Binder reinforcements

Silver glitter glue

Large balloon
Tools:
Compass

Pencil

Scissors

Craft knife

Ruler

Paintbrush
How to Make a Hover Craft Helicopter:
Step 1: With a compass, draw a four-inch circle on the cardboard. Cut out. Center the squirt-bottle cap on the cardboard circle and trace around it with a pencil.
Step 2: With the help of an adult, use the craft knife to cut out the center circle, cutting through the top two layers of cardboard only. Peel away these two layers of the center circle, leaving the bottom layer intact.
Step 3: With an adult's help, use the craft knife to cut a 1/4-inch square hole in the center of the bottom layer. Push the bottle cap down into the circle. It should fit firmly and tightly. (Remove cap before painting and decorating the cardboard.)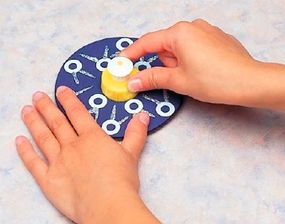 Place the bottle cap back into
Step 4: Push bottle cap back into the center circle. Paint both sides of the circle, letting paint dry on one side before painting the other side. Let dry. Decorate the top with binder reinforcements. Add silver rays with glitter glue. Let dry
Keep reading to learn how to make a paper clip helicopter.
For more kids crafts using paper, check out: