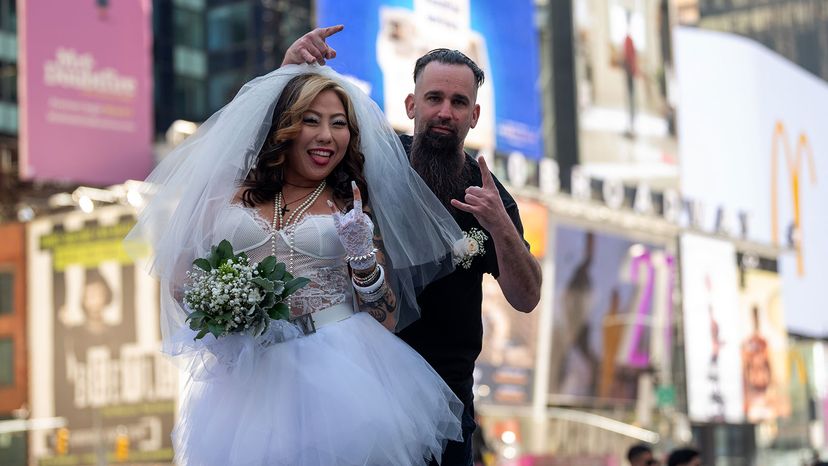 Back in May 2017, digital marketing specialist Katie Biggs married her husband in New York City. Their ceremony was held at City Hall, followed by vegan dim sum in Chinatown. The event was capped off with a champagne toast at their apartment that evening. From start to finish, their wedding day was attended by a total of 25 people, only family and very close friends.
"Having a huge wedding was not what either of us wanted. We don't have the type of personalities for putting on a show, so we kept it to our nearest and dearest in one of our favorite restaurants," she explains in an email. "Our wedding was also more budget-friendly; we saved money on having a huge ceremony which meant that we could spend more on the elements that did mean a lot to us -- I got to spend more on flowers, he got to spend more on his suit."
Biggs is part of a growing trend: the microwedding. Lavish nuptials have long been the standard, at least for people who could afford the significant expense. But, many couples are now opting instead for a more intimate experience — sometimes to save money, other times to make the wedding experience more meaningful. The Knot noted in its 2019 survey that the average number of wedding guests was 131, down from 149 in 2009.
"I think couples are going this route because they want to make their wedding experience personal to their relationship and not worry about all the traditions of a wedding that they don't want," says microwedding and elopement coordinator Tracy Brisson with Savannah Custom Weddings & Elopements. So far for 2017, she says 107 couples have chosen microwedding packages — about a third of all the company's weddings. In 2016, 88 couples chose microwedding packages, or 23 percent.
Microweddings also got a big boost during the COVID-19 pandemic, as states restricted gatherings to just 10 people or less. Even as states have relaxed those rules, Brides.com for one thinks "curated guest lists" are a trend that will continue for 2021 and beyond.