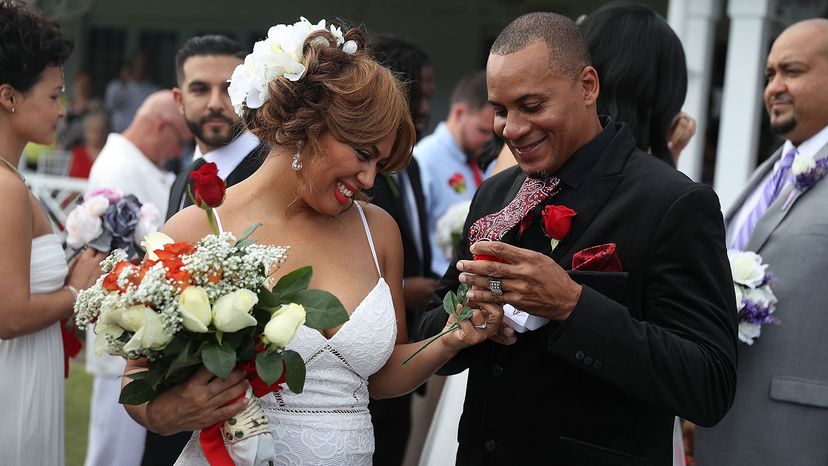 Image: Joe Raedle/Getty Images
About This Quiz
Some wedding traditions are lovely and others don't make much sense — their original purpose is lost in the mist of time. Test your knowledge of wedding traditions here!
Brides didn't always wear white. Who started the trend, albeit unwittingly?
When Queen Victoria wed her cousin Prince Albert in 1840 she wore a pale gown, which so fascinated the commoners that they started to emulate her wedding day style. She was also the first monarch ever to don a veil during her nuptials, although that wedding accessory had been around for many years.
Which other wedding tradition has been observed by royal brides for over 100 years?
adding a sprig of myrtle to the bridal bouquet
The custom of adding a sprig of myrtle began with Queen Victoria's daughter's wedding. Myrtle grew at Victoria's holiday home on the Isle of Wight and a piece was incorporated into the bridal bouquet. Myrtle represents love and fertility. Descendants of that original plant still provide the myrtle for royal bridal bouquets.
sewing a lucky sovereign in the hem of the wedding dress
having the royal bagpipers serenade you on your first wedding anniversary
What was the traditional purpose of the wedding veil?
present an image of virginity
hide an unattractive bride
People in the olden days were superstitious to the nth degree, so it's no surprise that some thought the wedding veil possessed the ability to deter evil spirits from messing with the bride on her big day. The veil was also helpful at presenting a virginal appearance, and in cases where the marriage was arranged it also concealed a less attractive appearance until it was too late for the groom to back out. Romantic.
Which socialite is rumored to have donned the most expensive wedding gown of all time?
Chinese socialite/actress/model Angelababy (real name Angela Yeung) wore a custom Dior gown with a price tag so sky-high that it hasn't even been confirmed. Still, it is believed to be probably the most expensive gown ever worn, what with its 100 hand-cut Chantilly lace roses, 10-foot train and seven petticoats (people still wear those?)
You're heard of something old, new, borrowed and blue. What used to be included in this litany of superstitious requirements that isn't often anymore?
lucky sixpence in my shoe
Superstitious brides traditionally put a sixpence in their shoes to encourage the powers that be to bestow monetary fortune on their marriages.
a bouquet of peonies to ward off the flu
a garter belt for purity of heart and virtue
Which prince holds the record for most expensive wedding ever?
Sheikh Mohammed bin Zayed bin Sultan Al Nahyan
You thought the Windsors knew how to party? The crown prince of Abu Dhabi put their lavish nuptials to shame. The 1981 affair logged a price tag greater than $100 million. The groom's proud papa even had a 20,000-seat stadium built for the ceremony!
Which of the following states still requires blood tests to obtain a marriage license?
Blood tests used to be a standard pre-marital requirement to test for rubella and venereal disease, but the vast majority of U.S. states have done away with this practice. The only ones that still do are Mississippi and Montana (although the latter only tests brides-to-be). The District of Columbia also continues the practice, and New York does check African-Americans and Hispanics for sickle-cell disease.
What was the traditional purpose of saving the top layer of the wedding cake?
to celebrate your first wedding anniversary
to serve to guests at your baby's christening
Although most people now consume it at their first anniversary, the original purpose of the top wedding layer was to become a christening cake. That was in the days when people usually had a baby before or around their first anniversary. Experts say the sooner you eat that cake the better it will likely taste. So try it at your one month anniversary!
to eat during the annual May Day festivities
Which country was the first to legally allow same-sex marriage?
More than 20 countries now recognize gay marriage but the Netherlands was the first, in 2001.
What was the original purpose of the best man?
to care for the bride and any children if something happened to the groom after marriage.
to witness consummation of the marriage.
to help the groom steal a bride for purpose of marriage.
Sometimes there just weren't enough women to go around, so grooms went to other cities to steal a bride (willing or not). 16th century Germanic Goths were known for the practice, and always chose a best man, who just so happened to be good with a sword, to aid in the kidnapping process.
Joe Raedle/Getty Images