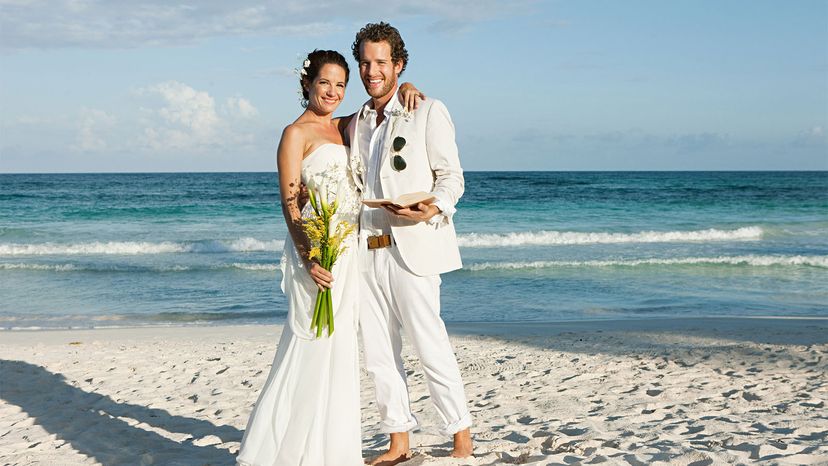 An invitation to a wedding in the Caribbean at a beachside resort sure sounds lovely. It also sounds expensive. Destination weddings used to be a rarity, but today they account for 23 percent of all weddings in America, according to The Knot. Seven out of 10 destination weddings take place outside the continental U.S., with Hawaii, Mexico and the Caribbean as the top three locations, according to the website GroupTravel.org.
So, what's behind the increase in these weddings? Good weather is the No. 1 factor, according to GroupTravel.org. But wedding planners have more fascinating answers.
"More [couples] are deciding that they want to throw the most important party (their wedding!) their way!" emails Catherine Bachelier, a Southern California wedding planner. "This means politely saying 'no' to the standard 200-person party when they really want to have their favorite 50 people to indulge."
For Emilie Dulles, a calligraphy and event printing expert who has worked on hundreds of destination weddings via her company Dulles Designs, the reason comes down to changing lifestyles.
"Nowadays, with couples meeting later on in life –– and in more diverse settings such as college, graduate school, workplaces, and exotic vacations –– it is rare today that both families are located so closely to one another, or share the same background. More often than not, the engaged couple's families reside in different towns, states, or even countries," she says via email. "So, over the last 20 years, more couples have been opting for destination weddings. This gives the couple and both families an even playing field in terms of travel, logistics, and event influence."