"SpongeBob SquarePants" Talent and Characters
What makes "SpongeBob SquarePants" popular everywhere? It starts with the characters themselves.
SpongeBob SquarePants is a sea sponge who looks very much like a kitchen sponge. He lives with his pet snail, Gary, in a two-bedroom, fully furnished pineapple. He loves his job at a "burger" place called the Krusty Krab, where he serves up Krabby Patties. He is an optimistic sponge who always looks on the bright side of life despite his real knack for getting himself and others into sticky situations. Although his best friend, Patrick, is a starfish, SpongeBob is the real star of the ensemble cast of undersea characters.
Patrick Star is SpongeBob's neighbor and best friend. He's quick to offer advice and even quicker to help his best buddy end up in trouble.
Sandy Cheeks is a sea-dome-dwelling squirrel who lives for action and adventure. Having attempted just about every death-defying stunt under the ocean, she has accepted the ultimate challenge: living underneath it in an oxygen-filled dome. Sandy is Bikini Bottom's only resident rodent, and SpongeBob's karate sparring partner. For Sandy, SpongeBob is the sea bottom's best stunt buddy, and when they get together, crash helmets and parachutes are usually required.
Squidward Tentacles is as mean as his name sounds. He's annoyed by everything and everybody, especially SpongeBob. He also works at the Krusty Krab and lives next door to SpongeBob. SpongeBob seems unaware of Squidward's feelings toward him and even likes listening to him playing the clarinet. SpongeBob believes he and Squidward make a great team at the restaurant.
Mr. Krabs (Eugene H. Krabs) is SpongeBob's boss and the owner of The Krusty Krab. His biggest concern is making money, and he spends his day counting up the cash from the Krusty Krab receipts. Mr. Krabs likes that SpongeBob is willing to work long hours for little pay, even though he is usually annoyed with SpongeBob. Mr. Krabs hates his fast food rival Plankton, the owner of the Chum Bucket, but not as much as Plankton hates him. The only thing more important to Krabs than money is his teenage daughter, Pearl.
Plankton is Mr. Krabs's nemesis. Plankton is a little guy with a big attitude. He's the owner of a rival restaurant, the Chum Bucket, and he's always scheming to take away the Krusty Krab's customers.
Gary is SpongeBob's pet snail. Even undersea, he leaves a trail of slime, but that doesn't make him any less lovable to his master.
Pearl Krabs is the teenage daughter of Eugene H. Krabs. Although her father is a crab, she herself is a gray whale. How or why this is the case has not been explained. She's popular, likes shopping, and acts like a typical human teenager.
Barnacle Boy (actual name Kyle) is a semi-retired superhero. His powers include being able to summon creatures from the deep sea. He also has a sort of laser vision referred to as "sulfur" vision. The Emmy Award-winning comedian and actor Tim Conway is the voice of Barnacle Boy.
Mermaid Man is the mentor to Barnacle Boy. These two characters add physical comedy in the genre of old comedy teams such as Laurel and Hardy. Ernest Borgnine is the voice of Mermaid Man.
Mrs. Poppy Puff works as a Boating School Driving instructor who teaches students (including SpongeBob) how to drive a boat. She is a pufferfish who inflates herself when something bad happens.
Larry the Lobster is a lifeguard at Goo Lagoon, the beach at Bikini Bottom. Larry is good friends with SpongeBob and Sandy.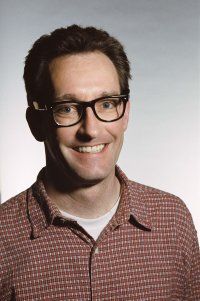 Meet the Voices Behind the Main Cartoon Characters in "SpongeBob SquarePants"
Tom Kenny (SpongeBob SquarePants/Gary/Mr. SquarePants/Narrator/Patchy the Pirate/Others)
As a youngster, Kenny was a fan of comic books and animated shows. Although he did everything he could to learn about animation, he never imitated the voices of others, but preferred to create his own voices. He began his career in entertainment as a stand-up comedian. One night when he was performing stand-up in a California club, executives from Nickelodeon and Hanna-Barbera offered him the opportunity to work for them doing voices. Kenny's life hasn't been the same since. And here's a little inside info: Tom Kenny is married to another SpongeBob character Karen the Computer ... better known in real life as Jill Talley.
Bill Fagerbakke (Patrick Star)
Fagerbakke is a television, film, and Broadway actor who currently lends his voice to the character of Patrick.
Rodger Bumpass (Squidward Tentacles)
Bumpass is a voice talent with credits that go as far back as "The Jetsons." He has more than 120 films to his credit and he is the father of eight children.
Carolyn Lawrence (Sandy Cheeks)
Lawrence is a voice actress who may also be recognized as the voice of Cindy Vortex on "The Adventures of Jimmy Neutron: Boy Genius."
Doug Lawrence (Plankton/Larry the Lobster/other voices)
Lawrence is the voice of the crotchety Plankton, but has also been known as Filburt from "Rocko's Modern Life." In addition to doing voice work, he is a cartoonist.
"SpongeBob SquarePants" Cast List
Clancy Brown (Mr. Eugene H. Krabs)

Rodger Bumpass (Squidward Tentacles)

Bill Fagerbakke (Patrick Star)

Tom Kenny (Spongebob Squarepants)

Carolyn Lawrence (Sandy Cheeks)

Mary Jo Catlett (Mrs. Poppy Puff)

Mr. Lawrence (Plankton)

Tim Conway (Barnacle Boy)

Ernest Borgnine (Mermaid Man)

Charles Nelson Reilly (The Dirty Bubble)

Lori Alan (Pearl Krabs)

Jill Talley (Karen the Computer)

Patrick Pinney (Painty the Pirate)

Carlos Alazraqui (Scooter/Teen-age Fish/Dr. Fish/Announcer

Brian Doyle-Murray (The Flying Dutchman)

Sirena Irwin (Mrs. SquarePants)
Looking for a particular "SpongeBob SquarePants" episode? We cover many of the highlights on the next page.