Although it probably helps to know that the princess silhouette stops at the waist and flares out from there, all you really need to know is that this is the dress Grace Kelly was married in. Appropriately, she also married a prince.
The benefit of the princess silhouette (besides being associated with the timeless elegance of Grace Kelly) is that it hides the hips, if only because no one can see where they are, and creates an hourglass effect when combined with a larger bust. However, for pear body types, the dress can get bottom-heavy. To avoid looking like you're slowly sinking into a giant marshmallow, balance the princess silhouette with straps that rest on the outside of the shoulders for symmetry, and use a light, airy fabric like chiffon for the train.
Related Articles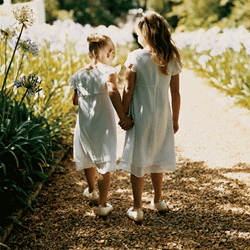 Up Next
Summer wedding trends for modern brides include colors, nature and more! Find out 10 summer wedding trends for modern brides.
---