Shopping for a plus-size wedding dress is rough. The standard size 10 sample dresses in bridal salons can be a pain (or impossible) to try on, and how can you know if a dress is going to look good before you see yourself in it? Before you resign yourself to a lackluster gown, consider this: The silhouette can mean everything for a dress. There are plenty of silhouettes that, when done right, flatter and complement a more curvaceous body. So don't worry about the size on the tag, and don't head straight for a rack of ball gowns big enough to swallow you up -- we've got five dress silhouettes and corresponding fabrics that work for your body type.
It's hard to go wrong with an A-line gown. This silhouette is universally flattering. Elegant, clean lines flare at the hips to narrow and elongate the torso. A-line gowns are also quite versatile. Unlike some other silhouettes, which are dependent on the strength and texture of certain fabrics, the fabric your A-line gown is made from will depend on your personal preference. Want to keep a soft, feminine shape? Go for a light fabric like chiffon that can hang comfortably off the body. Something more refined and formal? Heavier fabrics like organza can add structure and help maintain the A-line's smooth, crisp silhouette.
A high-waisted empire gown is all about Old World romance. The waist on an empire gown rests just below the bust, then flares out and flows freely. This comfortable shape gives the empire gown a more relaxed charm than many other silhouettes -- without sacrificing style. One of the best things about empire gowns is that they can either enhance or de-emphasize the bust. While a sweetheart neckline on an empire dress will flaunt your assets, a square cut across the front can help play down larger breasts without looking dowdy. A free-flowing fabric like charmeuse in an empire silhouette can also hide a wider waists and hips, as well as make dancing and sitting much easier.
The plus-size fashion industry is all about hiding and disguising certain features, but there's no reason why you have to fall victim to that mentality. Choosing a wedding dress that shows off some wicked curves can be much better than trying to de-emphasize larger hips or breasts. Sheaths, which fit tightly against the body all the way from neckline to hem, can look fabulous on a plus-size bride (especially with the right body-shaping underwear). We're talking about the dresses Christina Hendricks wears on "Mad Men" -- unapologetically form-fitting and powerfully sexy.
In this case, thicker fabrics like blended silk are better than lightweight ones, since sheath dresses are fitted to the contours of the body with seams rather than elastic.
We're not going to lie to you. Siren silhouettes (also called mermaid or trumpet) aren't for every body type. As a sleek, tight cut that flares at the knees, it's not usually recommended for plus-size brides. But that long line from the bust to the flare can look fantastic if you've got the height to pull it off. Just remember that the dress isn't built with shorter, more bottom-heavy women in mind -- it might end up feeling less like a dress than a sausage casing if you're an apple body type. The siren silhouette also needs a stiffer fabric like shantung that won't lose that sexy sweep from the hips to the hem.
Although it probably helps to know that the princess silhouette stops at the waist and flares out from there, all you really need to know is that this is the dress Grace Kelly was married in. Appropriately, she also married a prince.
The benefit of the princess silhouette (besides being associated with the timeless elegance of Grace Kelly) is that it hides the hips, if only because no one can see where they are, and creates an hourglass effect when combined with a larger bust. However, for pear body types, the dress can get bottom-heavy. To avoid looking like you're slowly sinking into a giant marshmallow, balance the princess silhouette with straps that rest on the outside of the shoulders for symmetry, and use a light, airy fabric like chiffon for the train.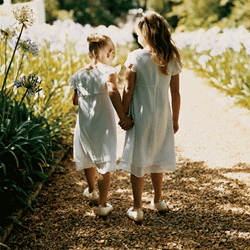 Up Next
Summer wedding trends for modern brides include colors, nature and more! Find out 10 summer wedding trends for modern brides.
---
Related Articles