You chose these girls to be your bridesmaids because they're your best friends. Don't make them regret being in your wedding by asking them to wear a hideous or ridiculously expensive dress. We'll help you find the best gown for your best girls.
iStockphoto.com/firstthingsfirst
You chose these girls to be your bridesmaids because they're your best friends. Don't make any enemies by asking them to wear a truly hideous or ridiculously expensive dress. We'll walk you through a few considerations to help you find the best gown for your best girls.
First, talk to your ceremony coordinator. If you're getting married in a house of worship, there may be a dress code or modesty restrictions. If this is the case, avoid plunging necklines and short hemlines.
Next, consider the time of day you're getting married. If the wedding is a formal affair at night, go with long gowns. For casual evening celebrations or afternoon weddings, short dresses are just fine.
iStockphoto.com/deanm1974
Bridesmaids typically expect to pay $100 or more for dresses, but you should be sensitive to your friends' financial situations, especially if you've got your eye on a pricey gown. Talk to your girls privately about their spending limits. A frank financial conversation may be uncomfortable, but you can at least ask for an idea of what they're able to spend on attire.
iStockphoto.com/jackiebutler
Your mom may try to convince you that your bridesmaids' dresses should be the same length as yours, but that's an old-fashioned consideration. Modern brides are mixing things up by asking their girls to wear short dresses. This really sets off your long gown in photos, too!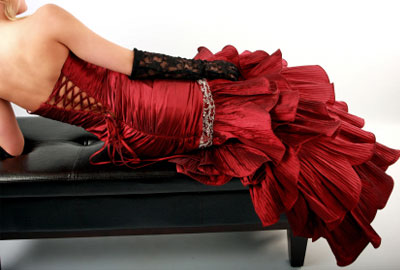 iStockphoto.com/pixeldustdesigns
Here's a short list of our thoroughly modern rules to keep in mind when choosing a gown. 1. It's a dress, not a Halloween costume. 2. They're members of your wedding party, not pageant contestants. 3. Your friends are real women with real figures. Choose your dress accordingly.
iStockphoto.com/stocknadia
Who started the rumor that a bridesmaid dress is judged on its wearability after the wedding? In our book, that's a myth! There's just a certain look to these gowns that says "bridesmaid." If you were invited to a black-and-white masquerade ball, you wouldn't wear your wedding gown, would you? Choose a special dress for your special day. And when your friends get married, you'll return the favor by buying the dress they want you to wear.
iStockphoto.com/TriggerPhoto
Let's talk options now. Plenty of brides go the route of identical dresses. This is a classy, traditional choice. At least ask your maid of honor for input on the dress (assuming she's not wearing something different to signify her role). If you can get the entire wedding party's approval, all the better.
iStockphoto.com/GaryOKane
Another dress option is to go with variations on a theme. Some boutiques sell dress collections that have a common color and hemline and let the bridesmaids choose the silhouette and neckline. If you have a few busty bridesmaids, they will appreciate the option to choose a dress with straps.
iStockphoto.com/Eden_Images
You can also go with dresses that have a unifying element, but are each unique. For instance, unify the look with color (shades of purples and blues) or texture (a playful cotton tricotine).
iStockphoto.com/CandyBoxPhoto
We've even heard of a few brides who buy fabric and a dress pattern, then ask the bridesmaids to have their dresses custom-made. If this is your preference, make sure your girls can find a reputable seamstress (after all, it's hard enough to find someone to alter your pants correctly!), or offer to have the dress made by your tailor. It's advisable not to ask your friends for their measurements since this can be a sensitive subject; instead, have them phone in the information to the tailor.
iStockphoto.com/hundreddays
Your friends are fabulous and have great taste, so you can always ask them to wear any cocktail/Sunday dinner/meet-the-boyfriend's parents dress of their choice. You'll be celebrating your friends' individuality, and giving them an opportunity to buy a dress that they really will wear again. But be prepared to field a lot of texts and photos -- they'll want to ask if their choices are OK.
iStockphoto.com/digitalskillet
Now for styling the dresses! Peggy Post says that the bride can't require her bridesmaids to wear the same hairstyle. If you have expectations, convey them, but it's not necessary (or even possible, in some cases) for your girls to follow suit. After all, it's unlikely everyone has the same length to work with.
iStockphoto.com/vizion-photography
When it comes to accessories, provide the jewelry you want your bridesmaids to wear, or let them wear what they want. You can also ask that bridesmaids wear baubles in the same family, like pearls or clear rhinestones and crystals.
As for shoes, the options are pretty similar to choosing a dress. Ask that everyone wear the same pair, or choose a unifying color or style. If you're having shoes dyed to match dresses, be sure to hand them over at the same time as a group batch since dye lots can differ.
iStockphoto.com/mindystrauss
If you keep these ideas in mind as you're choosing a bridesmaid dress, we guarantee you'll have happy bridesmaids! Because in the end, the goal is to look loved and adored in your group photos, right?