You may think wedding registries are old-fashioned or even tacky. But take it from us: Your friends and family want to give you wedding gifts, and you're going to be much happier if those presents are items that you need and want.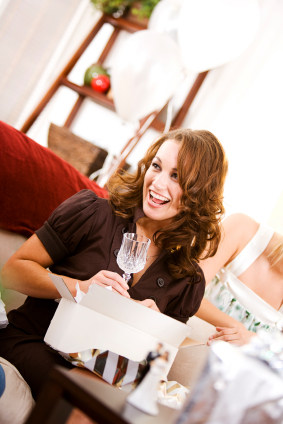 You may think wedding registries are old-fashioned or even tacky. But take it from us: Your friends and family want to give you wedding gifts, and you're going to be much happier if those presents are items that you need and want. Consider this your crash course in wedding registry basics.
First things first! Decide where you want to register. We suggest registering at a minimum of two stores. Pick a department store that carries kitchen, dining, bed and bath items, and then choose some specialty stores. Maybe you're a gourmet cook and need fancy kitchen tools -- or perhaps you have discerning home décor tastes. You can create a master registry at a big-box retailer and then choose smaller things from boutique shops.
Kitchen items will probably make up the bulk of your registry -- even if you don't like to cook. Think about tools you'll need for prepping, baking and cooking, as well as storage containers for basics like sugar, coffee and flour. Envision this space as your blank slate. What belongs on your kitchen counters?
Pots and pans, bowls and plates: These are the everyday items that take up space in your kitchen cabinets. Do your research to figure out what type of cookware you prefer (copper? nonstick?) and what type of everyday dishes best suit your needs.
When it comes to baking basics, you can't go wrong with a muffin tin, round cake pans and a loaf pan. This will cover you from zucchini bread to chocolate cupcakes. Other essenties? A cookie sheet and jellyroll pan. From there, consider specialty tools for cake decorating and pastry making.
Other must-haves for the busiest room in your new home? You'll need a smattering of appliances. Heavy-duty stand mixers are pretty standard these days on registries (they're big-ticket items, though, costing around $200), and you'll always find a use for electrics like coffeemakers, toasters and blenders.
PolkaDot Images/Thinkstock
Let's transition from the kitchen to the dining room. Here, you'll want pieces to serve and entertain. Create a proper tablescape from start to finish with linens (place mats and/or tablecloths, as well as napkins), china, silverware, serving dishes (gravy boat, anyone?) and serving utensils. Even if you stand to inherit your grandmother's china, choose a soup tureen or platter that reflects your personal taste. You'll need them someday, we promise!
iStockphoto.com/silverlining56
It's a fact of life: Aunts and old family friends love giving china. Your formal place setting will typically include five pieces (a dinner plate, salad plate, bread plate, coffee cup and saucer), but sometimes six or more (accent plate, soup bowl). You can registery for these pieces individually or for complete place settings. When it comes to silver, which is pricey, you may opt to register for the real thing (sterling silver) or for everyday flatware (stainless steel).
iStockphoto.com/rickszczechowski
A collection of glassware and barware is necessary whether you're a regular cocktailer or a teetotaler. Decanters and pitchers make elegant serving pieces at formal dinners -- choose ones that are pretty enough to keep on the table throughout the meal. Wineglasses and cocktail glasses will depend on your personal preference, but a set of highball glasses is a must for serving everything from tall cocktails to big sips of sweet tea.
Transitioning from entertaining to cozying up, consider what you'll need to stock your bedroom. Bedding, rugs and a few decorative items should suit your needs in this room.
iStockphoto.com/SteveCash
A fully stocked bed linens cabinet will include at least two sets of sheets, a mattress pad, pillows, a bedspread or duvet and duvet cover, as well as decorative pillows or standard pillows for shams. If you live in a place that gets very cold, you may also want to register for a cozy throw blanket or quilt.
BrandXPictures/Thinkstock
From the bedroom to the master bathroom, it's all about the linens still! Register for at least four sets of towels (a set includes a bath towel or sheet, hand towel and washcloth), as well as a shower curtain and rug. If you're the type to lounge around in robes, choose a luxurious set of matching fluffy robes with your new monogram.
iStockphoto.com/RainforestAustralia
You'll want some hardware for your bathroom, too. Don't forget the shower curtain hooks, which are available in basic stainless models to intricate designs fashioned from sea glass. A set of bath basics, like a soap dish, toothbrush holder, tumbler and lotion dispenser, is functional and adds a little sophistication to your bathroom counter.
Some couples prefer to skip the living room when registering, and others jump at the chance to ask for a flat-screened TV or plush armchair. Whether you're registering for living room furnishings or electronics, you may also consider some décor elements that can be used in this space, the bedroom, the dining room or the guest room. We'll discuss those next.
Now's the time to bid adieu to your plastic picture frames from college. Register for some quality silver frames to showcase your wedding photos (engraving your last name or the wedding on these is optional, and many registries will let you specify your preference). Also think about registering for some flower vases and a clock.
Other decorative items that will help you entertain in these same spaces include a sturdy serving tray and pair of elegant candlesticks. These selections might seem a little passé, and you may never use the tray to carry a silver teapot, but you'll thank us when everybody's over for the big game and they're all ready for a second round of beers at the same time. As for the candlesticks, you'll use them year after year at Thanksgiving and Christmas dinners.
From total elegance to total function, perhaps no other room in your house (besides the kitchen) works as hard as the garage. If your fiancé has a separate "manly" registry at a home and lawn store, this is where he can go wild. Imagine this space filled with tools galore!
David Oldfield/Thinkstock
Of course, you can stake out a corner in the garage for your own needs. If you like to garden or even just grow kitchen herbs, you'll need a place to stash supplies. We don't recommend registering for potting soil, but garden tools like a spade, pottery and watering can make great gifts.
iStockphoto.com/FreezeFrameStudio
Other items to fill your garage include a grill and grilling implements. If you've got the outdoor space, you may even want to add a set of patio furniture to your gift list.
If we've got you thinking about wedding registries and ready to create your own now, fantastic! See, they're not old-fashioned -- they're practical and full of possibilities. Let us leave you with one lasting image: a proper thank-you note. As your wedding gifts come trickling in, take time to write a note of sincere thanks for the present.