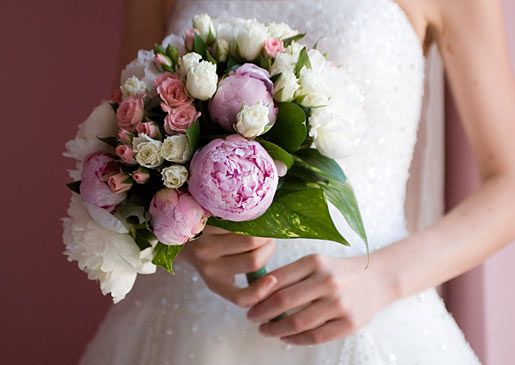 Pretty peonies and roses in pinks and whites say "blushing bride."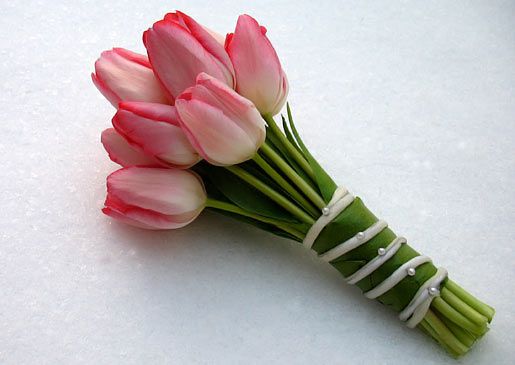 A simple bouquet of pink tulips gets dressed up with pearl-headed pins on the ribbon wrap.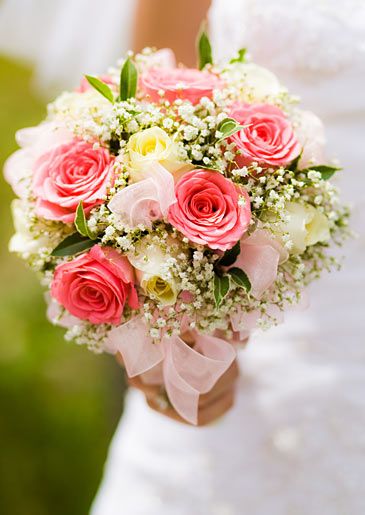 Roses and baby's breath comprise a traditional wedding bouquet.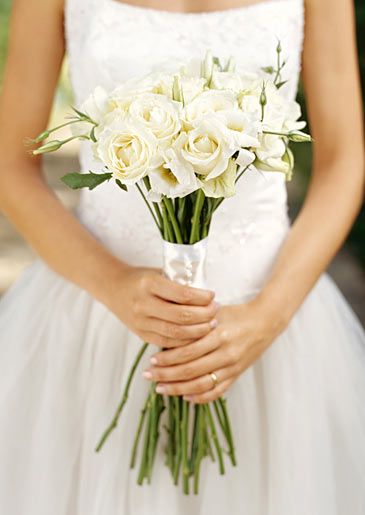 A clean, crisp bouquet of white gives off a casual vibe with long stems and loose construction.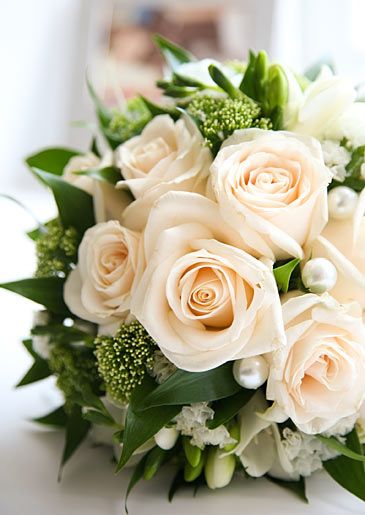 Bling up your standard bouquet with some pearl accents -- the effect is subtle, yet stunning.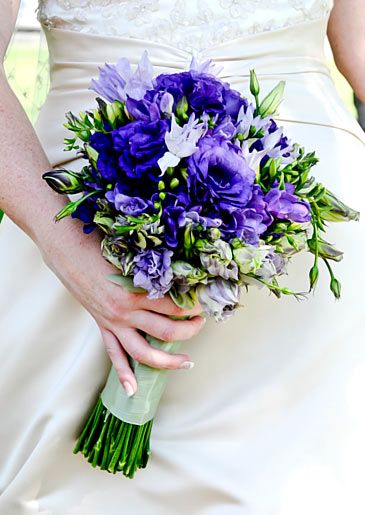 Lilac, purple and green make this a bouquet worthy of royalty.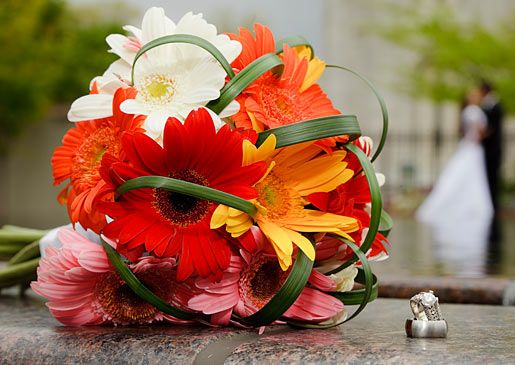 Big, playful daisies in bright colors look gorgeous at a summer wedding.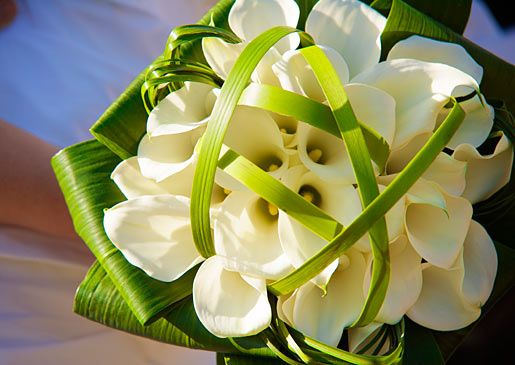 Calla lilies always look elegant going down the aisle.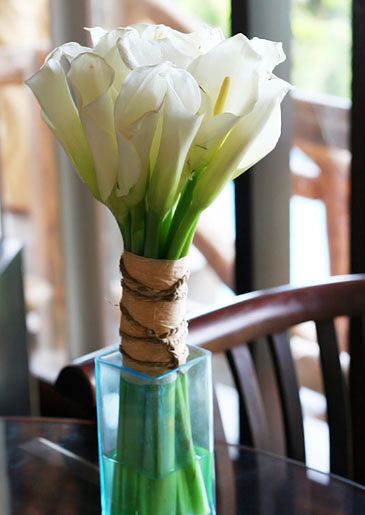 Formal long-stemmed calla lilies are softened with an earthy bouquet wrap.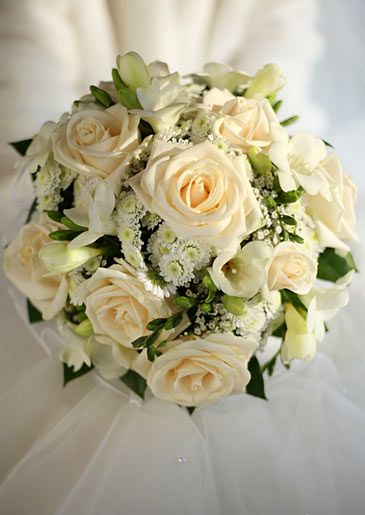 A tight, round bouquet of ivories and greens is multiseasonal and timeless.
Creatas Images/Thinkstock
Pink roses are a classic choice for a bride of any season.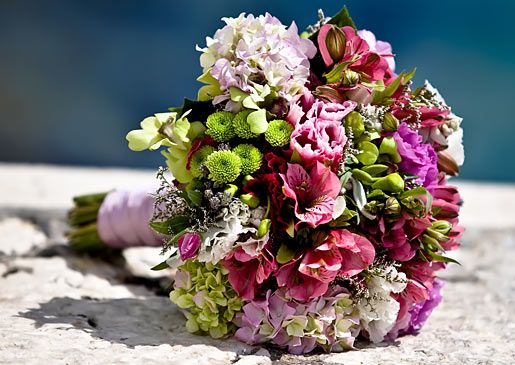 Preppy greens and pinks get pumped up for summer with bolder, richer hues.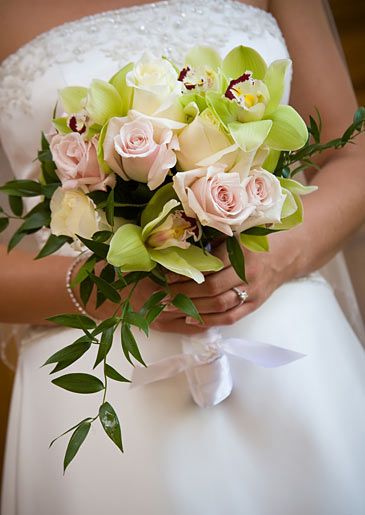 Roses read less prissy when they're slightly open and paired with an unexpected bloom in a loose, organic arrangement.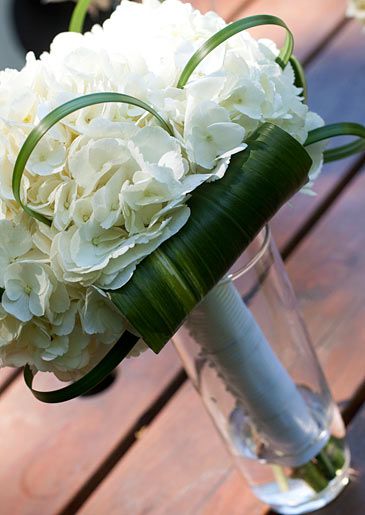 Greenery complements -- doesn't compete with -- these white hydrangeas.
Tidy pink roses with an organic flourish at the stems are whimsical.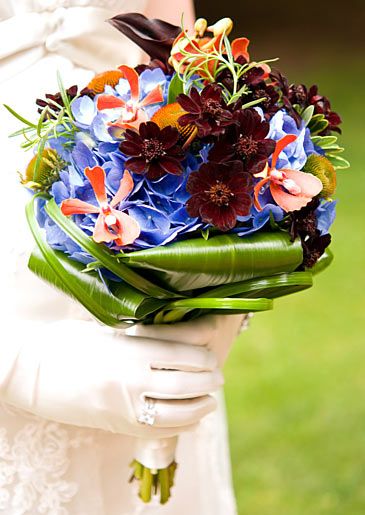 For the fall bride, an alternative to rusts and yellows is rich burgundy offset with bright blue.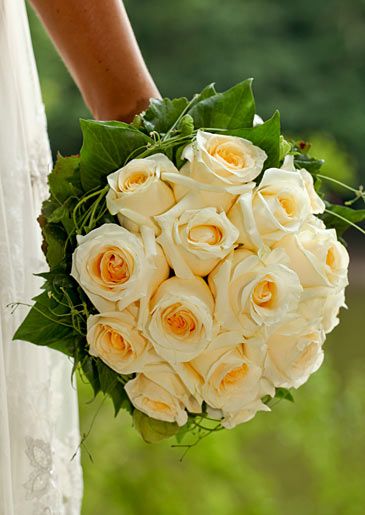 Roses get a boho-chic vibe with a soft wreath of green ivy.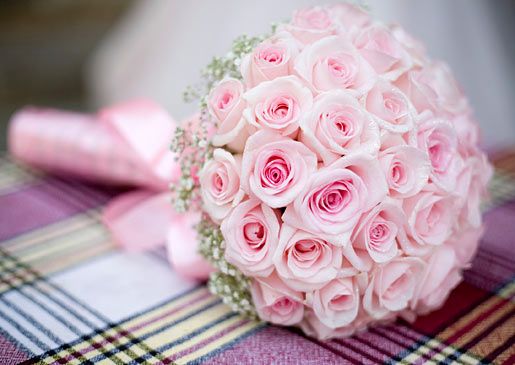 Pale pink is sweet for a spring or summer bride. A halo of baby's breath provides just a little color and texture contrast.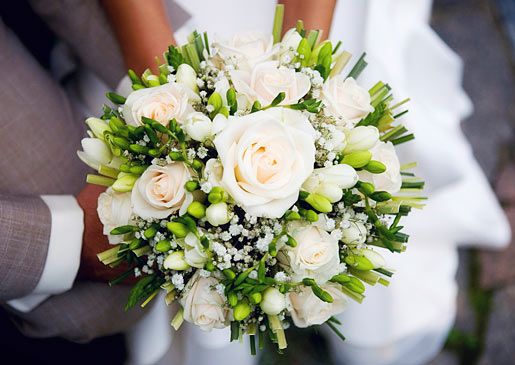 A perky, bright bouquet of white and green looks fresh for spring.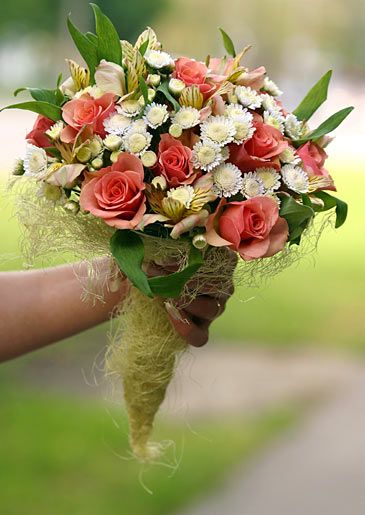 This soft and airy bouquet matches a midsummer night's dream-themed wedding.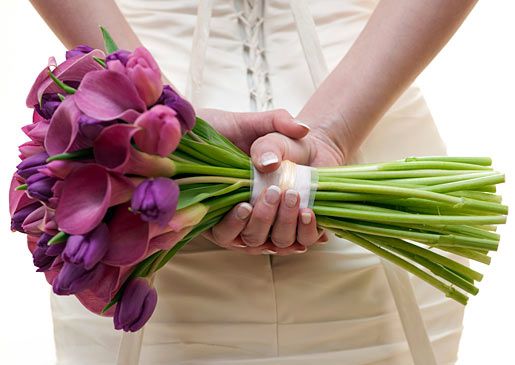 Long-stemmed purple calla lilies bring the drama.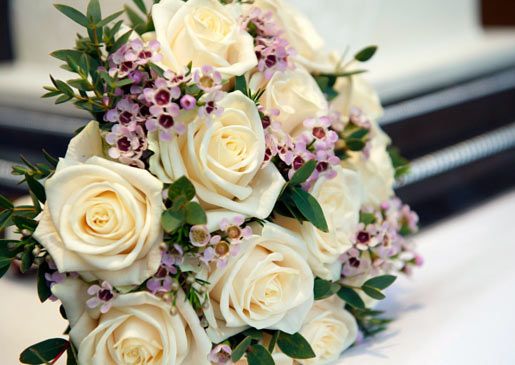 The contrast of structured, formal blooms with wild, organic ones makes this a unique bouquet for a very special bride.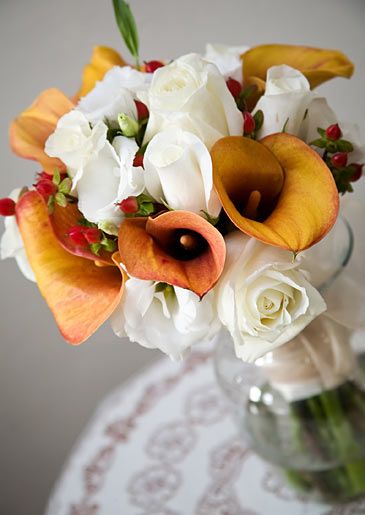 White roses can work for an autumn bride with rusty-colored callas and an ivory ribbon.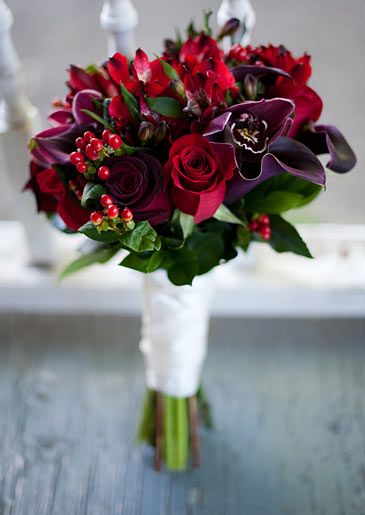 This hints at the holiday without being too obvious. Deep reds and burgundies with a spray of berries give just enough ho, ho, ho.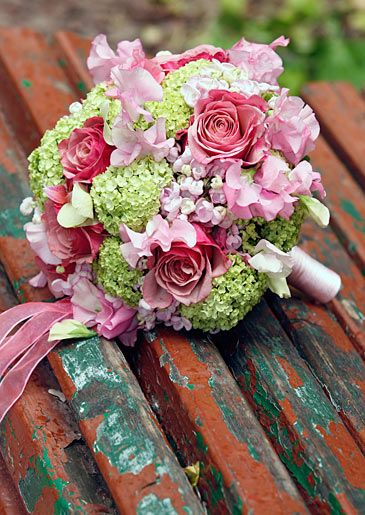 A dense bouquet of pinks and greens looks so fresh and sumptuous, you can almost smell it!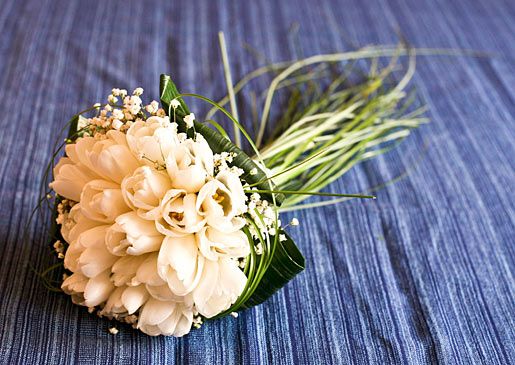 Heady ivory tulips just beginning to open spell romance for your wedding.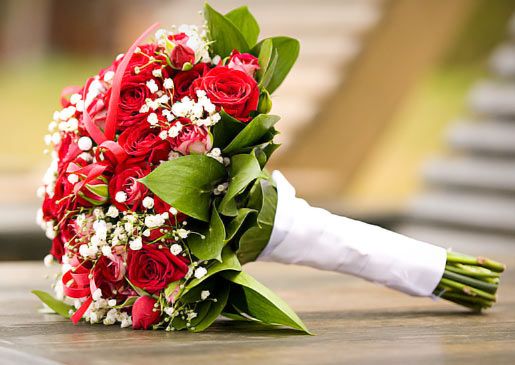 How can a bride keep red roses from looking too Valentine? Add a little greenery and a casual wrap.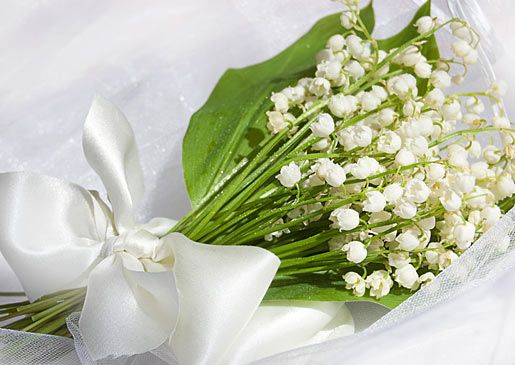 Perhaps the most classic bridal bouquet of all, lily of the valley makes a chic, simple statement. It's what Kate carried when she married Prince William!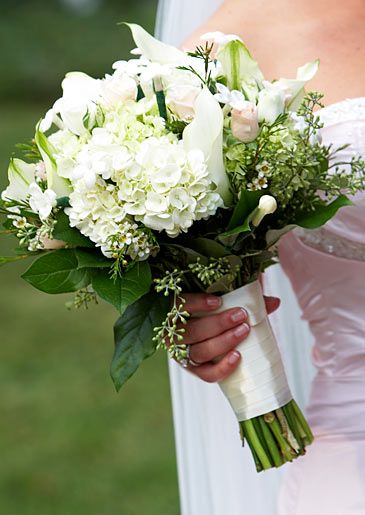 Hydrangeas, calla lilies and tiny wildflowers are the perfect choice for a spring bride.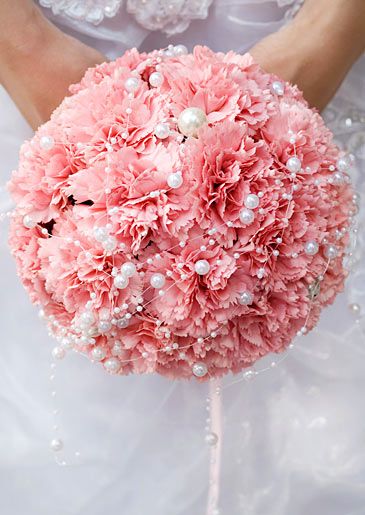 Nothing suits a princess bride more than pink and pearls!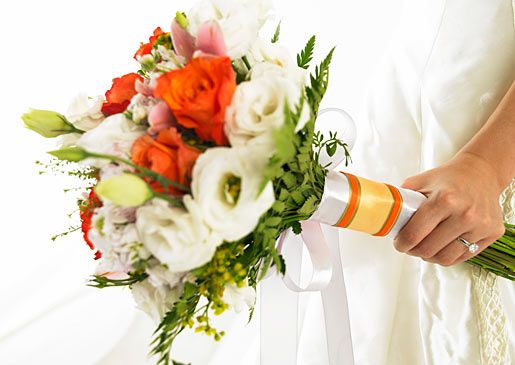 TongRo Image Stock/Thinkstock
Dress up a standard satin bouquet wrap with ribbons in complementary colors to your blooms! The effect is purely preppy.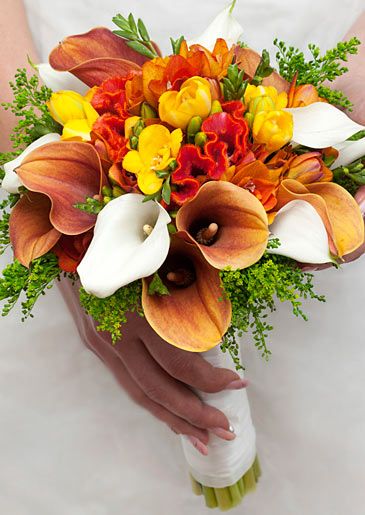 A vibrant bouquet of yellow, orange and red reads island fresh.