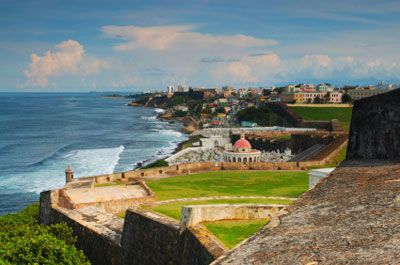 You don't need a passport to honeymoon in Puerto Rico! This U.S. commonwealth boasts Caribbean culture along with eye-catching architecture and sumptuous cuisine. Honeymooning history buffs and hikers will enjoy a visit to the El Morro national monument.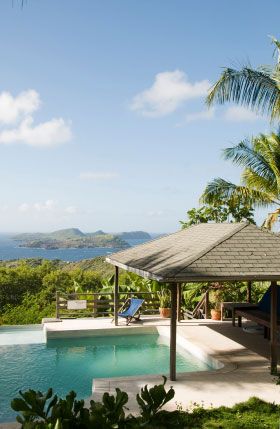 The mystique of Mustique beckons to many honeymooners. This privately owned southern Caribbean island offers secluded beaches and verdant vistas to the discerning traveler.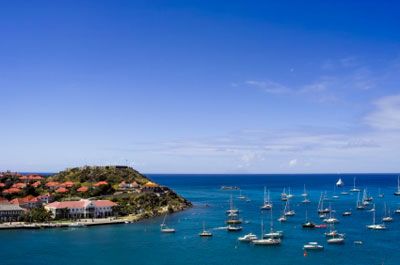 Saint Barthelemy -- or St. Barts -- is a popular choice for vacationers and honeymooners alike. This French island has a reputation for high-class accommodations, cuisine and shopping. Whether you're going for the beaches or the fashion, St. Barts will appeal to those seeking privacy in a villa.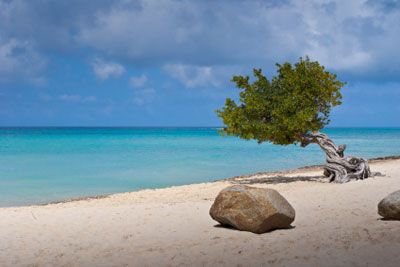 Aruba's sandy white beaches are dotted with divi-divi trees, and if you're into sightseeing, you can also take in gorgeous sand dunes, caves, grottoes and wildlife sanctuaries. When the sun goes down, the nightlife keeps this island paradise hot.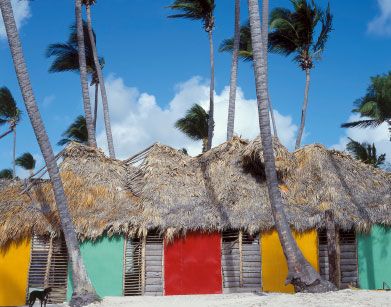 For honeymooners who crave a rich landscape of history, architecture and local culture, the Dominican Republic is an ideal destination. A blend of Spanish, French, Haitian and African elements makes for unique architecture, cuisine and customs on this beautiful island. Whether your penchant is for beaches, baseball or even cigars, you'll find satisfaction in the Dominican Republic!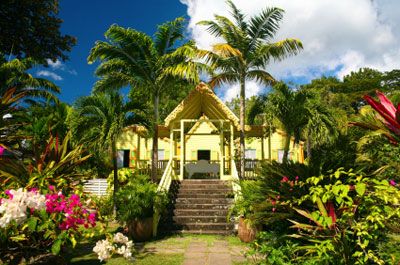 iStockphoto.com/CaraMaria
The breezes are Caribbean, but the lush foliage of St. Kitts may remind you of the South Pacific. Book a room in a Colonial-style plantation, and visit lava formations and lagoons. At night, stroll along the quiet, unspoiled beaches, and you may think you have the island to yourself!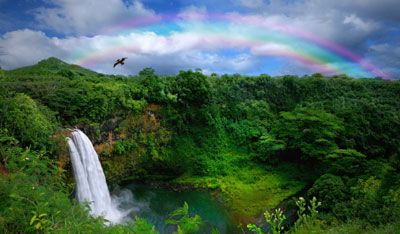 iStockphoto.com/tobkatrina
With dozens of waterfalls spread out over eight islands, there's no shortage of outdoor adventures in Hawaii for the active newlyweds. But if lounging on the beach with a cold drink in your hand is more your style, there's plenty of sand to dig your toes into.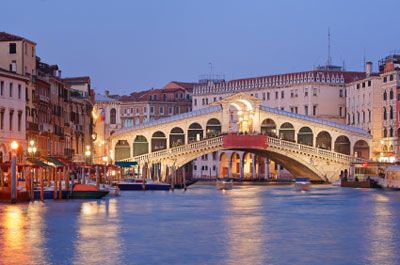 iStockphoto.com/compassandcamera
For the ultimate in Old World elegance and romance, honeymoon in Venice. Foodies in particular will relish Italian cuisine and wine. You can enjoy gondola cruises and take in renowned works of art in this charming, unique city.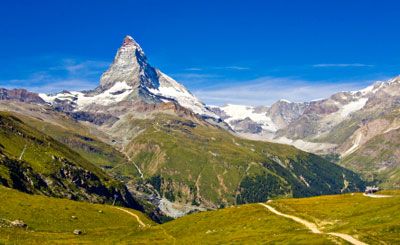 Not every bride is a beach bunny -- some prefer the crisp air and sophistication of a chalet. Celebrate your love by traveling to the breathtaking Swiss countryside, where you can admire mountain ranges and Alpine expanses.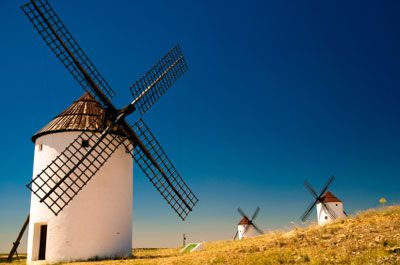 Literary-minded couples will love an excursion to Castilla-La Mancha, Spain, where they'll find windmills made legendary by Don Quixote. They'll also be awed by medieval fortresses, Baroque architecture and rugged mountain ranges.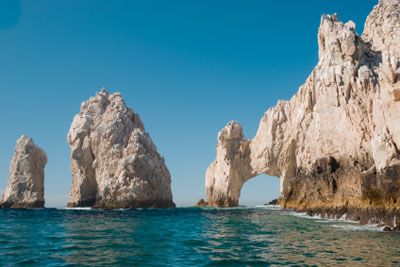 iStockphoto.com/designheidi
Head south of the border, and travel 1,000 miles down the Baja California peninsula until you hit sparkling waters. You're in Cabo San Lucas, where one of the most beautiful landmarks is Los Arcos. You'll need your energy for the lively nighttime scene, so try to conserve some while you're snorkeling or sport fishing. Landlubbers will love golfing or riding ATVs across the desert landscape!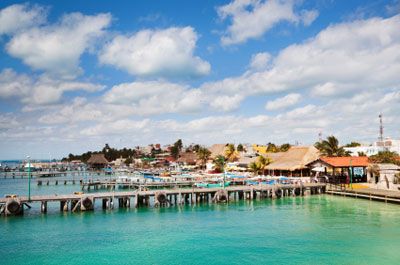 The Caribbean beaches of Mexico's Riviera Maya will not disappoint those in search of placid, azure waters and swaths of lush, inland forests. Experience the ancient Mayan world, majestic coral reefs and top-quality spa treatments for the best of what Mexico has to offer.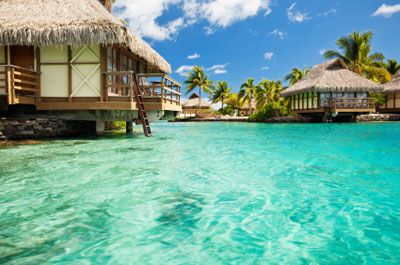 iStockphoto.com/mvaligursky
For variety, think French Polynesia! This nation is comprised of some 118 islands and atolls, where you can enjoy safaris, deep-sea fishing, wind-surfing or much-needed rest and relaxation. Tahiti, the largest of these islands, is one of the most popular honeymoon destinations.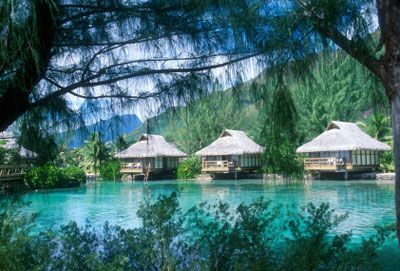 iStockphoto.com/Richmatts
Journey to Bora Bora, another island in French Polynesia, and you'll find the ultimate romantic paradise. Studded with blue-green lagoons and air redolent of hibiscus, Bora Bora is the perfect place to spot a giant manta ray or retreat to a private thatched bungalow.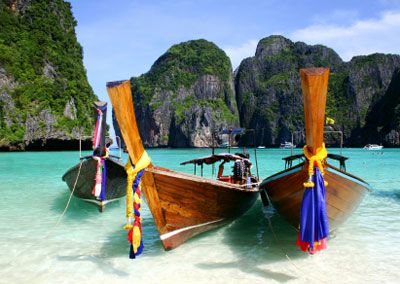 iStockphoto.com/SimonInDublin
An adventurous couple might skip the Caribbean and head to Thailand for a glimpse of Asia's most beautiful beaches. Or, you can seek inland attractions like sandstone shrines and Bronze Age temples. Mountainside villages in the north may also capture your shopper's sensibilities as you peruse silk, pottery and silver.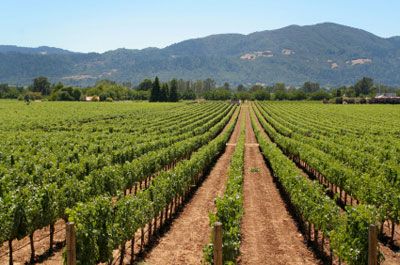 You don't need to cross an ocean to experience breathtaking sunsets and world-class wine -- just hop on a plane to Napa Valley, California! You can fill your days with wine tours, of course, but Napa is also known for its exquisite restaurants and luxurious spa treatments.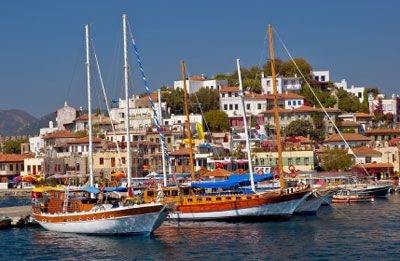 iStockphoto.com/vitalytitov
The Mediterranean region of Turkey boasts the lovely Marmaris Harbor, where yachts and ferries alike pull into port. Turkey is an unforgettable honeymoon destination where you can go ballooning, enjoy thermal spa treatments and take in oil wrestling. No trip to Turkey will be complete without a cup of Turkish coffee, sade or sekerli!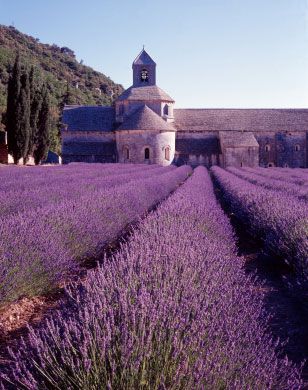 Provence, France, will delight all the senses. In spring and summer, the temperate climate will beckon Francophile honeymooners to explore the varied landscape from the Mediterranean coast to the Alps mountain range. The lavender fields are rich in fragrance and romance, and the local wine and cuisine are not to be missed.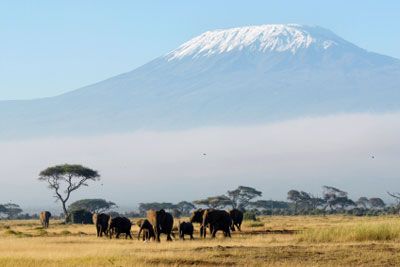 For the bride who's ready to trade in a white wedding gown for khaki fatigues, and who prefers a savanna to an island paradise, Africa is ripe with opportunities for adventure! From treks around Mount Kilimanjaro to sightseeing safaris, the active honeymooners will find plenty to do.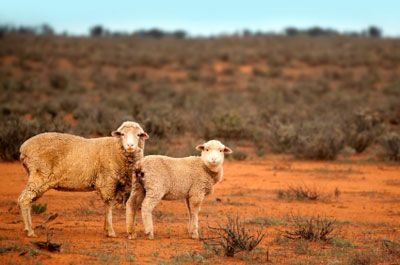 Now that you're mates for life, head down under to enjoy the best of Australia. From the Great Barrier Reef to wildlife spotting in the outback, there's plenty to do outdoors in Australia -- and that includes dinner by beautiful Sydney Harbor.