Our last entry isn't really a "thing" as much as it's an "idea of things." But it's definitely a wedding registry hazard, and plenty of brides and grooms have regrets. We're talking about registering for gifts that you can't use yet -- gifts you aspire to use.
Think registering for a Dyson vacuum when you currently live in a small walkup with hardwood floors. Or giant appliances to go into your fantasy kitchen, when today you have zero counter space. You never know what the future will hold. Don't register for 20 place settings because you hope to one day have a huge dining room with lots of friends and family over for the holidays. Those place settings will end up in storage and every time you move (if you even do), it increases the likelihood that they'll break. Don't register for a grill if you don't have a backyard.
A wedding is very special, and your gifts should reflect that. When your loved ones come to visit, they want to see the gifts they chose for you being used and enjoyed. We could go on and on, but our message is this -- live for today.
For more on weddings and gifts, check out the links below.
Related Articles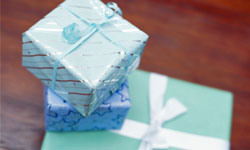 Up Next
Many brides can't believe they received these outrageous gifts for walking down the aisle. Learn the 10 most outrageous gifts brides have received.
---