1
Do Write Thank You Notes
Writing thank you notes for every wedding gift is a must! If you can manage it, try to write a thank you note as soon as the gift arrives. If you start feeling overwhelmed, keep a guest list handy, and write gift descriptions next to names to help you stay organized.
At bridal showers, make sure one of your bridesmaids writes down gifts and a name next to each so you can easily write thank you notes to guests after the party. Taking the time to write a thoughtful thank you note after receiving a gift makes guests feel appreciated and special.
If you start feeling stressed with wedding duties and responsibilities in the weeks leading up to your wedding, make time after the honeymoon to sit down and send thank you notes right away. Set a goal to have all of your thank you notes in the mail within three months after your wedding. You can always enlist the help of your new husband if you have a lot of notes to write!
Related Articles
Sources
Charli, Penn. "Ultimate Wedding Registry Checklist." Wedding Channel. July 16, 2009. (Oct. 6, 2010). http://weddings.weddingchannel.com/wedding-registry-ideas/bridal-registry-guide/articles/registry-checklist.aspx?MsdVisit=1

Elliot, Sara. "10 Gifts That Should Be On Your Wedding Registry." TLC Weddings. No date. (Oct. 6, 2010). https://tlc.howstuffworks.com/weddings/wedding-registry-wedding-gifts.htm

Elliot, Sara. "Ultimate Guide to Alternative Wedding Registries." TLC Weddings. (Oct. 7, 2010).https://tlc.howstuffworks.com/weddings/alternative-wedding-registries.htm

Farhat, Sally. "The New Wedding Registry Trend is all about What You Want." The New York Daily News. March 30, 2008. (Oct. 7, 2010).http://www.nydailynews.com/lifestyle/2008/03/31/2008-03-31_the_new_wedding_registry_trend_is_all_ab-1.html

Grant, Kelli B. "Stores Add Rewards to Gift Registries." Smart Money. Oct. 12, 2010. (Oct. 12, 2010). http://www.smartmoney.com/spending/for-the-home/stores-entice-gift-registries-with-rewards/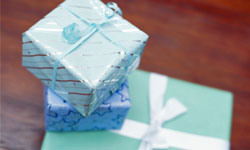 Up Next
Many brides can't believe they received these outrageous gifts for walking down the aisle. Learn the 10 most outrageous gifts brides have received.
---