Not all outrageous gifts are terrible; a few lucky brides have received extravagant wedding presents from their guests, like a fabulous week's vacation at the gift-giver's timeshare in Key West or a romantic hot air balloon ride, complete with a champagne toast.
Imagine someone handing over the keys to a brand-new car, or receiving a check for the down payment on your first home. Perhaps the most popular extravagant gift given to brides is a fine piece of jewelry, like a necklace, brooch or cocktail ring. (Bonus points if the piece can double as "something blue" on your wedding day!)
Big gifts mean even more when they speak to the couple's interests. An adventurous bride and groom might enjoy a helicopter tour over their hometown or a dual-bungee jump excursion purchased for their honeymoon. A couple interested in culinary arts would love to receive an entire month's worth of meals cooked by a private chef, or attend a cake decorating class with a talented pastry chef. Name a star in the solar system for the bride and groom who are into science, and give them the registration certificate. The environmentally friendly couple might get a thrill out of receiving adoption papers that care for an endangered animal, like a manatee. The couple will receive a picture of their new sea friend and monthly reports keeping them updated on the health of the animal.
Last word? Whether it's outrageous or modest, a gift that requires thought and consideration is the best kind.
Related Articles
Sources
Blakeley, Kiri. "Self-Help Books: Why Women Can't Stop Reading Them..." Forbes.com. June 10, 2009. (March 15, 2011).http://www.forbes.com/2009/06/10/self-help-books-relationships-forbes-woman-time-marriage.html

Elliot, Sara. "Ultimate Guide to Alternative Wedding Registries." TLC Weddings. May 18, 2010. (March 16, 2011).https://tlc.howstuffworks.com/weddings/alternative-wedding-registries.htm

Emily Post. "Regifting." No date. (March 15, 2011).http://www.emilypost.com/social-life/gift-giving-and-receiving/465-regifting

Kristof, Kathy. "Best & Worst Wedding Gifts." CBS Moneywatch.com. June 16, 2010. (March 15, 2011).http://moneywatch.bnet.com/saving-money/article/gift-ideas-best-and-worst-wedding-gifts/435123/

Ronca, Debra. "10 Ridiculous Things Brides Can't Believe They Registered For." TLC Weddings. Mar. 22, 2011. (March 15, 2011).https://tlc.howstuffworks.com/weddings/10-things-brides-cant-believe-they-registered-for.htm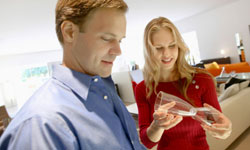 Up Next
What gifts do brides regret registering for? Read about wedding registry regrets at TLC Weddings.
---