Your wedding registry is an expression of your needs and hopes for the future -- as far as presents go anyway. It's really a pretty romantic notion, like having a hope chest or wishing on a star. When it comes right down to it, though, the gifts you have in mind should be as practical as they are poetic. If you're that lucky bride who already has most of the basic stuff, you might sign up with a few unusual registries for trips, art or other exotic items. But if you're just getting started or starting again, the basics that fill your cupboards or stock your closets are still wonderful items to have on your list -- especially if they come courtesy of people you care about and who care about you.
You may really need a cookie sheet and potato peeler, but it's still awfully nice to register for one or two lovely items you want but don't need. Even if you have a thoroughly practical soul, a crystal vase or silver photo frame will remind you of this magical time long after those sheets are threadbare and that can opener with the knife sharpener on the back is history.
If you're a good cook, skip this one and sign up for big cupcake tins or a panini maker (or whatever the trendy cooking apparatus is this week). If you're just beginning your culinary career, make sure your new kitchen is equipped with a quality cookbook that has a measurement conversion sheet, list of simple substitutions for stuff you forgot to get from the store, and the basics of making sauces, cooking meats and other useful cookery stuff. When you've just poured too much salt into your sauce and need a quick fix, having your favorite, trusty cookbook around will be more comforting and useful than five waffle irons or a set of indestructible steak knives.
Dream about satin sheets, but actually buy sturdy sheets that fit the bed, launder well and can stand up to some wear. Opt for high thread count and natural fiber varieties, but be a little skeptical. Sheet manufacturers who claim an impossible thread count density are probably playing with the numbers. Oh, and it's a good idea to sign up for extra pillowcases. We could also caution you about staying with colors that you can mix and match later, but if there was ever a time to walk on the wild side with the color of your sheets, this is it.
Start with the basic stuff, and work up from there. If you can manage it, this is a great time to be outfitted with the china of your dreams (and the storage pieces to keep it in). If that isn't practical right now, though, console yourself with the fact that you'd probably only use the good china a couple of times a year anyway. The everyday stuff is what you'll be looking at and using most of the time.
You'll want a nice mixture of pieces that you can use for special and everyday occasions. To make this work well, it's always wise to stick with classics in neutral colors or materials that match what you already have. Where you may be able to go trendy with your everyday dinnerware, serving pieces can get pricey, so use some caution. That square, black lacquered platter may look enticing now, but in five years, it might be better suited as a houseplant tray than as a platform for your signature roasted rack of lamb.
Any textiles you sign up for should be from reputable mills whose names you recognize and made from natural fibers, like cotton and linen. Quality counts when it comes to any type of fabric, and this is doubly true of items like tablecloths or napkins that are susceptible to staining and will be exposed to regular laundering. Natural fibers are less likely to shred, pill or distort over time. They also have a plush feel to the fabric that you just don't get with synthetics.
Towels are one area where you can indulge your senses without the moral or dietary fallout. There's just something about an expensive, thick, opulent towel that enhances your morning routine or that occasional, hot, steamy bubble bath (for two). Monogrammed towels just look elegant, too, especially when you have guests over. The problem is that most people won't buy truly great towels for themselves, so go for it.
You can't stock your kitchen with plastic glasses from the drive-through -- well, not forever, anyway. Part of growing up is investing in glasses that can break. It's a sign of maturity, a rite of passage, a statement that says, "I'm a big girl now with big responsibilities."
Seriously, glassware doesn't have to be expensive to add some real sparkle to even a simple meal. It doesn't matter that your lifestyle leans more to eating on a tray in front of the flat screen than under a chandelier in the dining room. A basic set of quality dishwasher-safe glassware is a must for your list. If you're moving into more formal gift territory, like crystal stemware, just remember to coordinate what pieces you have with those you're lusting after, and stick with the quality classics. We don't want to spoil the fun, but in 10 years, you'll thank us for not letting you go too wild with your choices.
Cutlery is expensive, and if you're into cooking, quality counts. If, on the other hand, you don't know the difference between a pork loin and a pork tenderloin (and don't care), spending a bundle on knives may not be the best way to go. A moderately priced set of general purpose knives (chef's knife, paring knife and boning knife) and steak knives, with or without a block or wall magnet to store them in, will probably suit the average family's needs. Try a couple of consumer Web sites for current trends in quality blades, and if you plan on running them through the dishwasher, pay close attention to the care instructions for the set you have in mind.
Cookware is one item that's very specific to the cook. You may like lightweight, nonstick pieces that make food prep fast and easy, or prefer the French stuff that's heavy-duty, beautifully made and built to last. Neither option is wrong. You may be lucky enough to have the room in your kitchen and a budget (or list of friends and family), that will support acquiring both.
Selecting the best bakeware is another matter. Your pieces should all be either light or dark to make evaluating baking times easier, and opting for new baking technologies, like silicon bakeware, can help get your cooking up to speed fast by ensuring that your recipes cook evenly every time. Cleanup will be easier, too.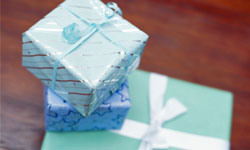 Up Next
Many brides can't believe they received these outrageous gifts for walking down the aisle. Learn the 10 most outrageous gifts brides have received.
---
Related Articles
Sources
All Sands. "Setting Up Your First Kitchen." Undated. 4/28/10.http://www.allsands.com/home/decorating/furnishingakit_bbh_gn.htm

Blum, Marcy and Laura fisher Kaiser. "Weddings for Dummies." Hungry Minds, Inc. 1997

Brides.com. "Registry Etiquette." Undated. 4/27/10.http://www.brides.com/etiquette/registry_etiquette/qa/detail/760/

Collins, Holly and Thomas Randleman. "The Complete Idiot's guide to Entertaining. Alpha Books. 1996

Estabrooks, Elizabeth "What are Stemless Wine Glasses?" WiseGeek.com. Undated. 4/27/10.http://www.wisegeek.com/what-are-stemless-wine-glasses.htm

Marshall, Paula. "New Decorating Book. Meredith Publishing Group. 2007.

Ng, Deborah. "What Should I Consider When Buying Table Linens?" WiseGeek.com. Undated. 4/28/10.http://www.wisegeek.com/what-should-i-consider-when-buying-table-linens.htm

Pen, Charli. "4 Hot Wedding Registry Trends." Undated. 4/28/10.http://weddings.weddingchannel.com/wedding-registry-ideas/bridal-registry-guide/articles/4-hot-wedding-registry-trends.aspx

Pen, Charli. "Wedding Registry Etiquette 101." Undated. 4/28.10.http://weddings.weddingchannel.com/wedding-registry-ideas/bridal-registry-guide/articles/wedding-registry-etiquette-basics.aspx

Rausa Fuller, Janet. "Knives Out: How to Stock Your First Kitchen." Chicago Sun Times. 9/26/09. 4/18/10.http://www.suntimes.com/lifestyles/food/1784473,FOO-News-first23.article

Things Remembered. "Most Popular Gifts for the Bride." Undated. 4/27/10.http://www.thingsremembered.com/webapp/wcs/stores/servlet/Category_10001_9951_4866_4866_-1_2998?occId=0

Turner, Bambi. "Top 10 Must-Have Home Accessories." HowStuffWorks.com. Undated. 4/28/10.https://tlc.howstuffworks.com/home/10-must-have-accessories-for-the-home1.htm