Jewelry is a timeless maid of honor gift and can be tailored to fit any style or budget. If you have a specific idea for the type of jewelry she should wear with her maid of honor dress, give her these accessories as a gift before the wedding. You'll save her the trouble of shopping for something you like, and she won't waste her money on something that's not exactly her style. Plus, she's probably spent enough already on her dress, shoes, makeup and other incidentals.
To make this gift all about her, pick a classic piece of jewelry that she can wear forever. Some wedding favorites include Tiffany & Co. silver pendants, Swarovski crystal necklaces or bracelets, and pearl earrings. If you'd prefer a more sentimental piece, consider a maid of honor pendant necklace engraved with her name or a special message. You can also choose a charm bracelet, complete with charms that represent your friendship.
Related Articles
Sources
Bartlett, Brooke. "Top 5 Ideas for Bridesmaid Gifts." Overstock.com. (May 6, 2010).http://www.overstock.com/guides/top-5-ideas-for-bridesmaid-gifts

Martha Stewart Weddings. "Gifts for Your Bridesmaids." (May 6, 2010).http://www.marthastewartweddings.com/photogallery/bridesmaid-gifts?lpgview=thumb&showComments=true#ms-global-breadcrumbs

Real Simple. "5 Bridesmaid Gifts under $50." (May 7, 2010).http://www.realsimple.com/holidays-entertaining/weddings/registry-gifts/bridesmaid-gifts-00000000006511/page2.html

The Wedding Lens. "Five Gift Ideas for Your Maid of Honor." Oct. 23, 2008. (May 6, 2010).http://www.theweddinglens.com/blog/5-gift-ideas-for-the-maid-of-honor/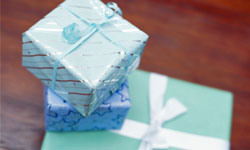 Up Next
Many brides can't believe they received these outrageous gifts for walking down the aisle. Learn the 10 most outrageous gifts brides have received.
---