Your maid of honor plays a big role in your wedding. Not only is she responsible for planning your bridal shower and bachelorette party, but she also makes sure things run smoothly during the ceremony and reception. By your wedding day, the close female friend or family member you've picked to serve as your maid of honor has spent plenty of time and money to make your big day a success. She's watched you try on countless dresses, visited caterers to find the perfect cake design and been by your side through all the wedding-related worries and planning.
To say thank you for all this work, treat your maid of honor to a special gift beyond the standard bridesmaids' favors. Remember though -- this can't just be any gift. Give her something timeless that she'll enjoy for many years, or something completely luxurious that she'd never buy for herself. Whatever your budget, you'll find the perfect way to show your appreciation with one of these 10 maid of honor gift ideas.
With all her responsibilities leading up to the wedding, your maid of honor is probably feeling frazzled by the time the big day finally arrives. While she's been distracted by last-minute tasks up to this point, she may be starting to wonder how your new married status will impact your friendship. Add to this the exhaustion that comes from participating in a wedding, and it's no surprise that she's feeling overwhelmed.
Before you take off for your honeymoon, leave her with a bottle of fine wine or bubbly to help her relax and unwind. To make this gift extra special, splurge on a bottle she'd never buy for herself. Think vintage Chateau Latour, Cristal or Veuve Clicquot, not the dusty $10 bottles at your local liquor store. Pack the wine in a wooden box engraved with a special message, or choose a simple jute bag and spend more on the wine instead.
If neither wine nor champagne is her thing, consider cocktails. Fill an ice bucket with a bartender's guide and drink mixes for martinis, margaritas or any of her favorites, plus a few bottles of liquor. Include a set of engraved drinking glasses or a monogrammed cocktail shaker to add a personal touch.
Looking for a more traditional gift? Consider a set of fine stationery. Not only is stationery a timeless, classic gift for people of all ages, but your maid of honor will be able to use it for years. Best of all, she'll be reminded of you and your wedding every time she writes a letter. Stationery is particularly meaningful if you and your maid of honor live in different cities; it will encourage her to write to maintain your friendship across the miles.
Choose the highest quality paper in her favorite shades, and have the printer add her monogram. Include a silver letter opener if desired, and have that engraved with her initials or a special message of thanks.
A shawl or pashmina woven from a luxe fabric like cashmere or a wool and silk blend makes the perfect gift for your maid of honor, especially if you're planning a winter wedding. If you're planning a summer wedding, stick to lightweight fabrics like silk or cotton. Your gift will keep her warm as she heads to the ceremony or reception, and it will look much better in photos than her everyday coat.
Consider personalizing the wrap or scarf by having it embroidered with her initials. Pick colors that complement her maid of honor's dress, or make it a timeless wardrobe staple by giving her a neutral color she can wear with anything.
7
Twelve Months of Gifting
In all likelihood, your maid of honor spent about a year helping you with wedding details. Give her a gift that keeps giving just as long. Buy her a subscription service to a flower-of-the-month club, and she'll receive a fresh bouquet delivered to her home each month for a full year.
If flowers aren't really her thing, find a subscription service that matches her interests. A beer-of-the-month club will deliver a new microbrew each month, while cocktail clubs offer recipes, liquor and mixes that can help her find a new favorite drink. You'll also find services for chocolate, desserts and many other luxury goods.
Not a foodie or drinker? Treat your maid of honor to a year's subscription to her favorite magazines, or buy her a subscription to Netflix. Instead of just handing her a gift certificate, arrange it in a thoughtful gift basket. For movie subscriptions, fill a popcorn bucket with her favorite movie treats and tuck the gift certificate inside. If you've chosen to give her subscriptions to craft magazines, pack a sewing box with some basic crafting supplies, like funky fabrics or paints.
Wedding party tote bags are one of the most popular gifts for bridesmaids or the maid of honor. She can use the bag for wedding errands, and after the wedding, it's great for the beach or the gym. Pick a durable product that offers plenty of customization options, such as the totes from L.L. Bean. You can either choose bags in your wedding colors, or stick to your maid of honor's favorite shades. Have the bag monogrammed with her initials, but skip wedding-related embellishments that could limit her use of this gift after the wedding.
Make this gift even more exciting by filling the bag with goodies. Focus on supplies she'll need for the wedding, or stuff it with some of her favorite things. A bottle of sparkling water, box of gourmet cookies and a fashion magazine are a good place to start. If you're having a themed wedding, fill the bag with items that relate to it. Brides planning a beach wedding can add sunscreen, sunglasses and a cushy beach towel to give this gift a personal touch -- and to make it totally practical for the weekend!
5
Pre-wedding Pampering Session
Wedding planning is exhausting for both the bride and her bridal party. A pre-wedding pampering session can help you unwind so you'll be ready to relax and enjoy the big day (and as a bonus, you'll look fantastic in pictures!). Pick a favorite salon or spa, and treat your maid of honor to hair, makeup and manicure services. You'll save her the cost of paying for these services herself, and you'll both have fun bonding before the wedding.
Feel free to invite the rest of your bridesmaids along on this outing, but make sure your maid of honor gets a little extra pampering. Treat her to a private yoga session or a massage, or buy her a plush robe to wear at the spa.
4
Post-wedding Spa Session
Your wedding day was all about you, so consider giving your maid of honor a gift that's all about her. Buy her a gift certificate for a full day of spa services, or pick a massage package that lets her spread out the experience over several days. This type of gift will help her relax after the wedding while giving her a special experience of her own. Leave the rest of the bridesmaids at home -- this day is all celebrating your maid of honor and showing her how much you appreciate her
Another option is to give her a gift basket containing all the implements she needs to create her own spa experience at home. Choose a mixture of lotions, bath salts and beauty products then add candles or a relaxing CD. You can even buy her a comfortable robe or slippers to complete the experience.
In the early days of newlywed bliss, it's easy to forget your friends as you focus on your husband. Reserve some time to invite your maid of honor out for a post-wedding treat. You'll both enjoy the girls' night, and it'll show her you haven't forgotten all her hard work -- or her friendship. After all, the woman who watched you try on 20 different veils without complaining deserves to enjoy a fun night of her own.
Plan an extra-special outing to let her know how much you appreciate her. Buy her tickets to a concert, or take her to the ballet. Spring for dinner at the most expensive restaurant in town, and share a bottle of the finest wine or champagne. You can even plan a weekend away so the two of you can truly reconnect after the long days of wedding planning. Think Vegas party weekend or a trip to the beach. Even a simple weekend at a local resort can be the perfect treat if you both just want to relax.
Custom photo frames allow you to express your thanks to your maid of honor while celebrating your friendship at the same time. Visit a photography shop to have a frame custom-made for her. Choose materials and colors that match her home décor, and have the frame engraved with a personal message to add more meaning to your gift. Consider a fine wooden frame, painted in bright colors or left unfinished depending on her style. Sterling silver is another popular option that can lend a sense of elegance and timelessness to your gift. Add the best photo of the two of you at your wedding before giving her the frame. It doesn't have to be a perfectly posed shot -- choose a photo that reminds you why she's your best friend and why you picked her to stand by your side on one of the biggest days of your life.
Photo albums or scrapbooks offer another option for personalized gift giving. Collect your favorite mementos throughout the wedding planning process, and arrange them in an album so she'll never forget this experience. Don't forget to include shots from the bachelorette party and other pre-wedding events.
Jewelry is a timeless maid of honor gift and can be tailored to fit any style or budget. If you have a specific idea for the type of jewelry she should wear with her maid of honor dress, give her these accessories as a gift before the wedding. You'll save her the trouble of shopping for something you like, and she won't waste her money on something that's not exactly her style. Plus, she's probably spent enough already on her dress, shoes, makeup and other incidentals.
To make this gift all about her, pick a classic piece of jewelry that she can wear forever. Some wedding favorites include Tiffany & Co. silver pendants, Swarovski crystal necklaces or bracelets, and pearl earrings. If you'd prefer a more sentimental piece, consider a maid of honor pendant necklace engraved with her name or a special message. You can also choose a charm bracelet, complete with charms that represent your friendship.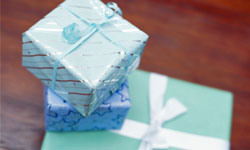 Up Next
Many brides can't believe they received these outrageous gifts for walking down the aisle. Learn the 10 most outrageous gifts brides have received.
---
Related Articles
Sources
Bartlett, Brooke. "Top 5 Ideas for Bridesmaid Gifts." Overstock.com. (May 6, 2010).http://www.overstock.com/guides/top-5-ideas-for-bridesmaid-gifts

Martha Stewart Weddings. "Gifts for Your Bridesmaids." (May 6, 2010).http://www.marthastewartweddings.com/photogallery/bridesmaid-gifts?lpgview=thumb&showComments=true#ms-global-breadcrumbs

Real Simple. "5 Bridesmaid Gifts under $50." (May 7, 2010).http://www.realsimple.com/holidays-entertaining/weddings/registry-gifts/bridesmaid-gifts-00000000006511/page2.html

The Wedding Lens. "Five Gift Ideas for Your Maid of Honor." Oct. 23, 2008. (May 6, 2010).http://www.theweddinglens.com/blog/5-gift-ideas-for-the-maid-of-honor/