It's only natural: Women with straight hair would often kill for a curly hair day.
Sleek can be stunning, but red-carpet illusion aside, straight hair isn't always sleek. It's not always malleable. It can be dull and tangled (in fact, straight hair is more prone to tangles than curly hair). It can have a kink that won't let loose or an end that refuses to flip under.
The thing is, it's permanent. The disulfide bonds that make straight hair straight (and curly hair curly) won't ultimately be swayed by chemicals or heat -- although the latter can be a good way to work with the potentially stunning, enviably straight locks you were born with.
There are actually a whole bunch of ways to work with straight hair. Here, five tips for looking red-carpet ready every day.
First, it's really not that tough to get some texture for a little while.
A straight-haired girl's got to know how to scrunch. Scrunching gives hair some texture, so it doesn't just lie there making the rest of you look bigger by comparison.
There are lots of ways to do it. Here's one:
Start with damp, conditioned hair, and apply a small amount of scrunching mousse or gel (this is actually what the products are called). Run it through with your fingers, careful not to get too much in the root area (it'll make you look greasy).
Part hair into four sections around your head. Starting at the tips of one section, scrunch it -- grab handfuls and squeeze. Work your way up to the roots. Move to the next section.
If you want some extra body, toss your head forward and do some allover scrunching upside down, while you dry with low heat. Don't dry it all the way or else you run the risk of frizz.
You can also simply air dry. There are no rules in scrunching.
Actually there's one: Don't brush it when you're done.
Simple as scrunching is, there's an even easier way to get some texture.
One of the coolest things about straight hair? It can actually look better on day two.
To add some body overnight, shower in the PM, and put your dry or damp hair into any one of these configurations before bed:
Loose, messy bun

Loose braid

Pulled up in lots of evenly spaced bobby pins

Twisted and bobby-pinned into coils (giant ones for big, soft waves, tiny ones for curls)

Done up in rollers, '50s style
The added bonus here is that straight hair (and often curly hair, too) often just looks better on the second day, when some of the washed-away essential oils have returned to the hair.
If you decide to brush your hair when you wake up, to soften the look, be sure to start at the end and work your way carefully upward. Otherwise, you risk breakage.
The next tip will take you into your kitchen.
A DIY vinegar rinse can be a straight-haired girl's best friend. It strips away heavy buildup (from conditioners, products, whatever) that weighs hair down, making it look lifeless and flat. Once you clean that stuff off the hair, it can bounce again.
Add about a tablespoon of vinegar to one cup of water (double the amounts if you have long hair). Get your hair wet in the shower, and pour the vinegar rinse all over. Run it through with your fingers, from roots (where it may also help eliminate dry scalp) to tips. Leave it in for several minutes, then rinse -- preferably lightly. Leaving a small amount of the vinegar in your hair can help prevent tangling.
You may smell a bit like vinegar while the hair's wet, but the smell will dissipate as it dries.
You can do this a few times a week. If you notice a drying effect, cut back.
Up next, an ingredient your straight hair doesn't want.
There's an ingredient in many commercial hair-styling products that straight hair (or any hair, for that matter) can do without: alcohol. It's often found in large amounts in some of the cheaper stuff, and it strips off the oils your hair needs to look rich and healthy. Alcohol makes hair -- especially straight, fine hair -- look dry and lifeless.
So look at ingredient lists on any gels, mousses, leave-ins or spritzes. If alcohol is one of the first three ingredients, leave it on the shelf. If it's farther down on the list, that's fine. You needn't worry about a tiny amount.
If your hair is exceptionally dry, you may want to invest in alcohol-free hair products. They're out there.
Finally, to give straight hair some full-time depth.
There is perhaps no better way to fake texture than to add color gradations. In straight hair, color can create depth, and depth can create a sense of fullness. It can make straight hair look lively.
For depth, don't go with a monotone. Go with highlights (lighter tones) and low-lights (darker tones).
But be careful, because if your hair is very straight (and you wear it very straight), highlights can end up looking streaky and cheap. So talk to your hair stylist about it. You may find it more natural looking to go only with low-lights.
No matter how you wear your straight hair, the surest way to make it look great is to care for it. That means good conditioner, gentle brushing, low heat and minimal use of the curling iron. That thing can really fry your hair.
For more information on straight hair, hair care and related topics, look over the links on the next page.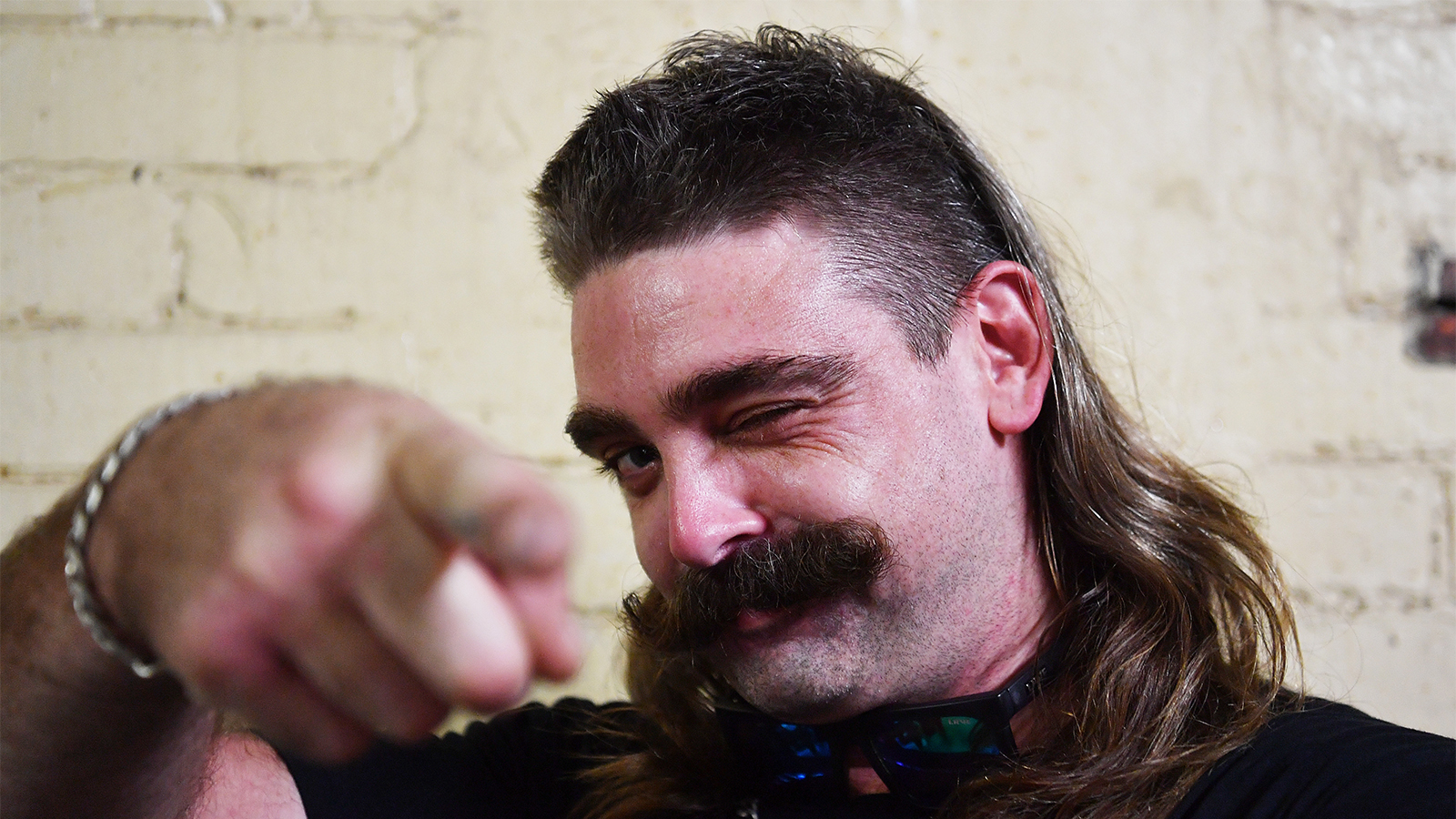 Up Next
From ancient Greek spearman to Mr. Exotic, America's most notorious big cat owner, the mullet seems destined to stick around and around.
---
Related Articles
More Great Links
Sources
Hair Care for Different Hair Types: Straight Hair. 101 Beauty Salon.http://www.101beautysalon.com/hair/haircaretypes5.html

Kivalovich, Lisa. "Fun Styles for Straight Hair." Ladies' Home Journal.http://www.lhj.com/style/hair/styles/fun-styles-for-straight-hair/

Natural Vinegar Hair Rinse. Chagrin Valley.http://www.chagrinvalleysoapandcraft.com/shampving.htm

Scrunching to change the look of your straight hair. Skin Care Beauty Zone.http://www.skincarebeautyzone.com/hair-care/scrunching-to-change-the-look-of-your-straight-hair/

The Trick to Perfectly Imperfect Straight Hair. Lucky Magazine.http://www.luckymag.com/style/howto/beauty/2010/04/imperfectlyperfectstraighthair

Why is some hair curly and some hair straight? Cool Quiz.http://www.coolquiz.com/trivia/explain/docs/hair.asp