If you have short hair, you might think you need to bid adieu to hair accessories. After all, you can't sweep your hair up into kicky ponytails anymore, and that hip, messy side-bun thing definitely won't work with chin-length locks. But don't fret -- you might not be able to rock a dramatic updo (or might you?), but there are plenty of ways to have fun with short hair.
Just one warning before we start: Less is more. We think this is a good rule of thumb when you're facing any kind of fashion or hair conundrum, but it's especially true when you have short hair. A minimalist cut deserves carefully chosen additions. Do yourself a favor and refrain from plastering your pixie cut with a bunch of huge, bejeweled barrettes. But, just as with any rule, there certainly are exceptions -- a big flower, for example, can really pack a punch when dramatically placed in short hair.
Here, 10 ideas to help you dress up your short locks without defeating them. The key is to keep it simple.
Barrettes can be tough to pull off with short hair -- you have to find small ones that won't slip out, but you don't want to look like you've been raiding the kiddies' department. It's a fine line, but if you remember to stay away from brightly colored plastic (and anything princess-themed, of course), you're on the right track. For classic and understated, stick with basic lines and subtle hues -- tortoiseshell is always a good choice. For a night out or just to satisfy a do-it-up mood, check out those small, statement barrettes with gems or feathers or sequins and pick just one. Place it at the side, just above and behind your ear, for a chic effect.
Remember, too, it's key to find barrettes that have a little grip or traction to keep your shorter locks in place. It's so sad when hair flair falls out.
The bobby pin came into being in the 1920s, when women needed a way to hold back the short, bobbed haircuts that were all the rage. Almost a century later, the bobby pin is still one of the most versatile accessories for short hair. If you're desperate to get those pesky bangs out of your eyes, chances are you'll reach for a bobby pin -- it is the jack-of-all-trades of the hair accessory world. The trusty, unadorned bobby pin isn't the most attractive or flashy, but it will always get the job done -- and quietly. It's perfect for when you want to look natural but still put a few hairs in place for some shape. Of course, you can also dress a bobby pin up in almost any way imaginable, or try layering two bobby pins in a crisscross for a subtle styling twist.
Skinny headbands -- stretchy loops, U-shaped plastic or metal -- have been one of the hottest hair trends of the past few years. They look especially great with short hair, but be careful when selecting one -- anything too wide or too ornate could make you look like a third-grader. If you're in doubt, remember our handy KISS rule: Keep it simple and skinny. Doubling up on skinny headbands is also a cute -- but not too cute – look, and it opens up the possibilities for mixing colors and patterns.
Headbands (and the rest of these accessories, come to think of it) are especially handy when you're growing your hair out. It's also a good idea, if you have short hair, to create some volume at the crown when you're wearing a headband. Place the band just past your hairline, then gently tease or blow-dry the hair behind it to give it a little lift.
If you're looking for a chic way to hide a bad short-hair day, reach for a head scarf. When a serious case of bed head threatens to ruin your morning, a scarf will do the job of a baseball hat but way more stylishly. Depending on your mood (or hair woe), you can go bandanna-style or fold the scarf into a band and tie it at the nape of your neck. Like headbands, scarves are convenient when your hair is in that awkward growing-out phase, but they're so much more versatile -- and with scarves, you don't have to worry as much about looking too young. Go wide, go bright, go patterned -- go crazy!
Flowers may not be an everyday hair look, but they really pack a dramatic punch in short hair. You can find silk flowers of all shapes, colors and sizes on tiny clips, bobby pins, headbands and barrettes that easily grip short hair. Better yet, grab a glue gun and make your own floral hairpiece with something fresh and alive. A real flower is classier than a silk one and has the added benefit of adding a light, natural fragrance to your hair. A big, fresh flower behind your ear can complement everything from a long, flowing dress to a pair of worn-in jeans with sandals.
Think hair bands are only for long pony tails? Not so. The tiny ones, which you can find in any hair-accessory aisle, can make a short do so much more interesting with a few carefully placed spikes or a couple of low, choppy pigtails just behind the ears.
Choose clear or neutral-colored bands to minimize the school-girl look (unless that's your thing). It's a more grown-up style when they blend in.
You see it all the time: Long hair with a feather extension just slightly visible, all chic and trendy. If you've seen it in short hair, though, you know it's got the same effect and can be even more dramatic.
This look is probably best for hair that's chin- to shoulder-length, because you do want a bit of blending (and it needs something to grip). Make sure the feather isn't too long -- an inch past your ends is a nice look. Since your ends are closer to eye level, the feather will be easier to spot.
Remember that updo you gave up when you went short? It doesn't have to be that way! If you've got your heart set on a bun, French twist, braid or chignon for a special occasion, hair extensions can make it happen.
You can get ones for cheap, but this might be a place to splurge if you want the look to seem natural (and elegant). Many salons do hair extensions, and they can blend right in when done well. You may find you want to keep them in and wear your hair long for a while -- change is such a good thing.
Whether it's prom, a wedding or a night out with the girls, few accessories are more stunning than hair gems. They look kind of like fashion magic, just sitting there with no visible fastening mechanism, which imparts an odd sense of the understated to such a dazzling look.
Hair crystals typically come in heat-sensitive sheets that stick to your hair with the help of a curling or straightening iron. The sheets then peel off, leaving just the tiny crystals stuck to your hair. Here, as always, it's important to not overdo it. While just one or two may look like a stunning accident, 50 will look tacky. Try just a handful of crystals strategically placed to frame your face or to form a line on one side, near your ear.
As far as drama goes, a pop of simple color may just be your best bet -- and you don't need to go through any kind of dying process to achieve it. There are lots of hair pants out there that you simply brush on with a skinny brush or mascara-type wand, and they don't wipe off on your clothes. Some kinds can stay in for weeks.
You'll find them in every color of the rainbow. Paint on a streak or two to add a big wow to your hair and inject some color into a neutral ensemble. Hair paint will be much more visible on light hair, but brunettes can still easily achieve a streak of color, just a more subtle one.
Whether you're into color and sparkle or neutral and understated, you've got lots of options. Short hair doesn't have to mean bare hair: Well-chosen accessories can make an already chic cut even more noteworthy.
For more on hair styling and fashion, check out the links on the next page.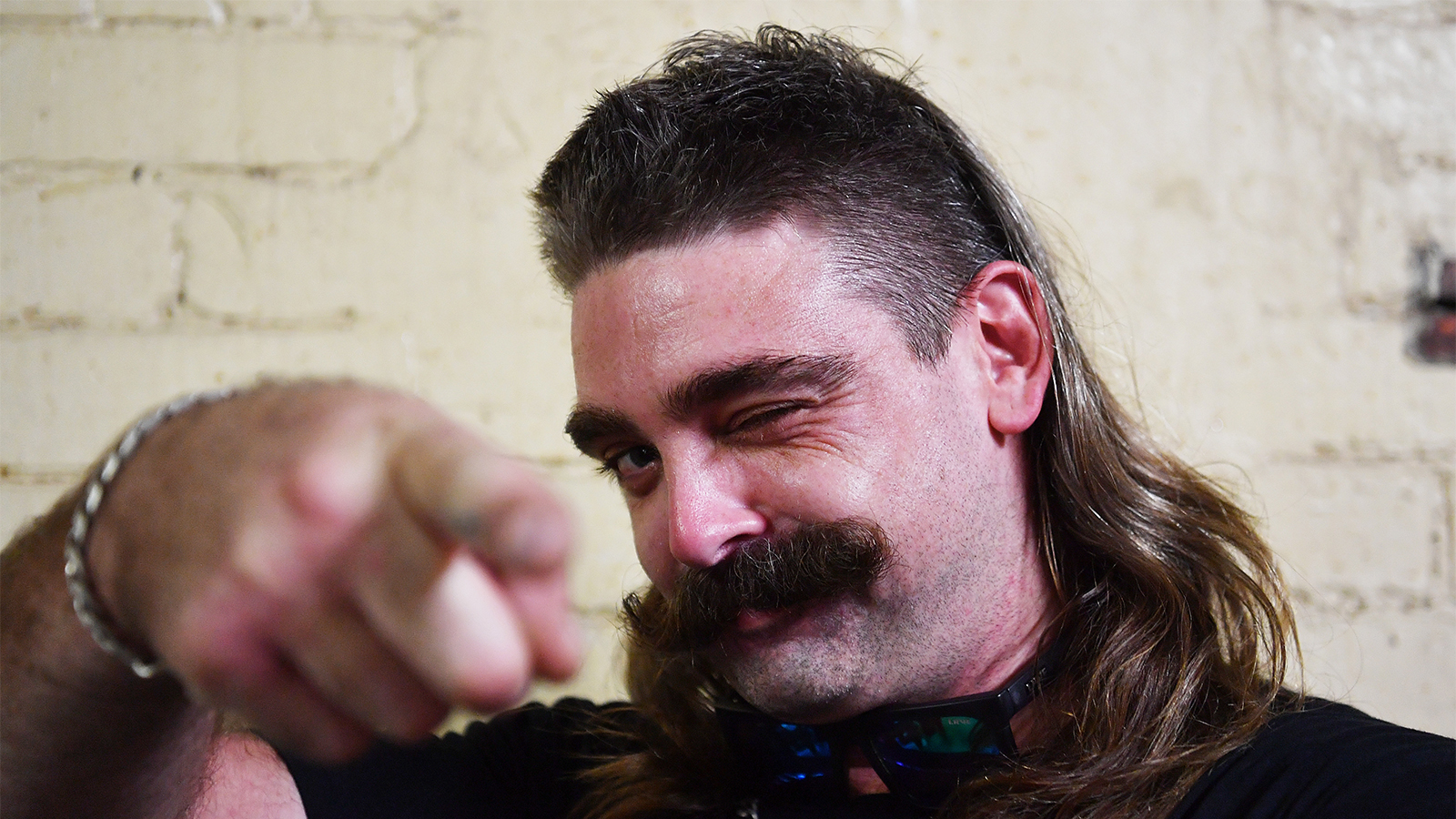 Up Next
From ancient Greek spearman to Mr. Exotic, America's most notorious big cat owner, the mullet seems destined to stick around and around.
---
Related Articles
More Great Links
Sources
Allure.com. "7 Tips for Sexy Short Hair." (Accessed Aug. 5, 2010)http://www.allure.com/trends/2009/08/sexy_short_hair_ideas#slide=1

Allure.com. "The 10 Biggest Short Hair Mistakes." (Accessed Aug. 5, 2010) http://www.allure.com/magazine/2009/11/short_hair_mistakes

Dunham, Deborah. "Hair Accessories that Summer-Proof Hair with Style." (Accessed Aug. 5, 2010) http://www.stylelist.com/2010/07/16/summers-most-buzzworthy-hair-accessories/

Bonner, Jessie L. "High fashion or bait? Fly ties now hair extensions." The Seattle Times. June 6, 2011. (Jan. 15, 2012) http://seattletimes.nwsource.com/html/outdoors/2015246435_flyfash.html

Ledes, Bayly. "Hair Accessories for All Hair Types." (Accessed Aug. 5, 2010) http://www.realsimple.com/beauty-fashion/hair/tools-techniques/hair-accessories-hair-types-10000001682941/index.html

Shelton, Karen Marie. "Hair Accessory Tips for Short Tresses." (Accessed Aug. 5, 2010) http://www.hairboutique.com/tips/tip180007.htm