It's a legitimate request: "Make me look thinner." You're wearing a brown smock and you're sitting in a salon chair, staring at your hair stylist in the mirror. Why shouldn't this person with the comb and the cutting shears be able to turn your face from plump and round to long and slender like all the movie stars?
It can be done. No doubt about it, some hairstyles will make your face look thinner, and some hairstyles will make your face look rounder. We'll hook you up with the hairstyle dos and don'ts on the next 10 pages.
10
Don't: The Chin-Length Bob
The bob haircut never really goes out of style. But only people with certain face shapes can pull this cut off. If you're reading this article, you probably have a rounder face, and therefore, we advise you to pass on this particular cut, and here's why:
If you want your face to look slimmer, wearing a hairstyle that frames your face will only call more attention to that roundness. Also, if you have a double-chin that you'd prefer to hide, a chin-length bob will draw the eye right to your problem area. Chin-length bobs also tend to add volume on the sides of the head, which will make your face look even wider. Instead, think about a longer hairstyle that lengthens the face, or bring your bob above chin level to draw eyes upward.
Adding a splash of color to just about anything is always a good idea, and your hair is no exception. Obviously we're not talking about putting hot pink streaks in your hair, but some natural highlights flatter any face, as long as they're subtle.
Here's why: Adding highlights to your hair will brighten up your face, giving it a younger and thinner look. Also, the juxtaposition of light and dark in your hair mimics stripes. Vertical stripes draw the eye up and down, making your face appear slimmer. And if your hair is flat or dull, highlights give your tresses volume and shine, which is always a good thing.
More volume in your hair will make your face appear smaller than it is, and volume is often achieved through the use of hair products. If you use a high quality product, you'll get high quality results. So make sure you're using good shampoos, crèmes and pomades, so your face-slimming haircut will hang in there as long as you want it to. And remember -- high quality doesn't necessarily mean super-expensive. Shop around and check fashion magazines to find out which products give you the most bang for your buck.
Straight-cut, heavy bangs may be a trendy look, but it's not one that lengthens your face. Blunt bangs draw a line across your face, making your face look both shorter and wider. So, if you have a round face, it's best avoid to avoid this hairstyle.
If you simply must have heavy straight bangs, at least make sure you have some height on top. We're not talking Snooki from "Jersey Shore" or anything, but a little volume at the top of your head will add the illusion of length to your face. You could also have your hair stylist cut side-swept bangs, a softer bang look.
Just about anyone can wear layers with good results. For those with rounder faces, layers are an easy way to soften your curves. When hair is all one length, it tends to make the face look fuller. Adding layers near the line of the cheekbone will highlight your bone structure. If you have thin or flat hair, layers also add a nice boost of volume and movement.
Make sure, though, that you don't let your hair poof out on the sides, as that will add width to your visage. We recommend a longer, layered cut that goes past the chin for the best effect.
Most hairstylists urge you to go with your natural part, which is where your hair falls on its own. But you don't have to, if you find a different look that works for you. For example, if you have a heart-shaped face, you should avoid a center part as it will make your face look rounder. If you have a round face, you should try a side part. Sweep your bangs or any long layers diagonally to the side. This breaks up and softens a round face, and also accentuates your cheekbones. If you're looking to add some height and volume to your hair in order to lengthen your face, try parting your hair on the opposite side of your natural part.
If you have a small, narrow face, longer hair can overwhelm it, and you're better off with a shorter cut to accentuate your features. But if you have a larger or rounder face, a super-short cut will backfire on you. You can go somewhat short, though. Just think layers and volume at the top. This will draw the eye upward -- another face-slimming trick. Again, if you're going shorter, don't let your haircut end directly at your chin. Go a little shorter or a little longer. We like a short, layered cut that hugs the head close around the ears and cheeks (the widest part of the face) and has a bit of height on top. It's a fun, flattering cut.
Sure, earlier we said you should avoid the bob hairstyle, but we were talking about the blunt bob that stops right at the chin line. The asymmetrical bob, on the other hand, can give you a very flattering look. Here's why: Not only is this bob ultra-chic -- look at Anna Wintour -- but it's also easy to maintain. An asymmetrical bob is much shorter in the back, and then angles down and is longer in front. The cut should start in the back around the nape of your neck and then end in the front 2 to 3 inches below your chin. It elongates the neck and lengthens the face. Pair it with some sideswept bangs and you'll be in the pages of Vogue in no time.
2
Don't: Stick Straight Hair
Poker-straight hair may be trendy, but if you don't have a long, slim, oval-shaped face, the flat iron is your enemy. Long tresses that fall straight and close to your head can actually make your head look small and your face look heavy. Like we said before, adding volume in the right places is key to minimizing a heavy face. You can still have the long hair you desire -- just add some layers and volume, and maybe even a few highlights.
The long shag appears to be the go-to haircut for round faces. The longer length (try for shoulder length or longer) draws the eye down and makes your face appear slimmer. The layers soften up the style, giving you a younger and more feminine look. Make sure bangs are angled and not too thick. Sideswept, wispy bangs can minimize a wide forehead. And layers at the top of your head will add volume, and, once again, create the illusion of a longer, more slender face.
For more about beauty and hair, check out the links on the next page.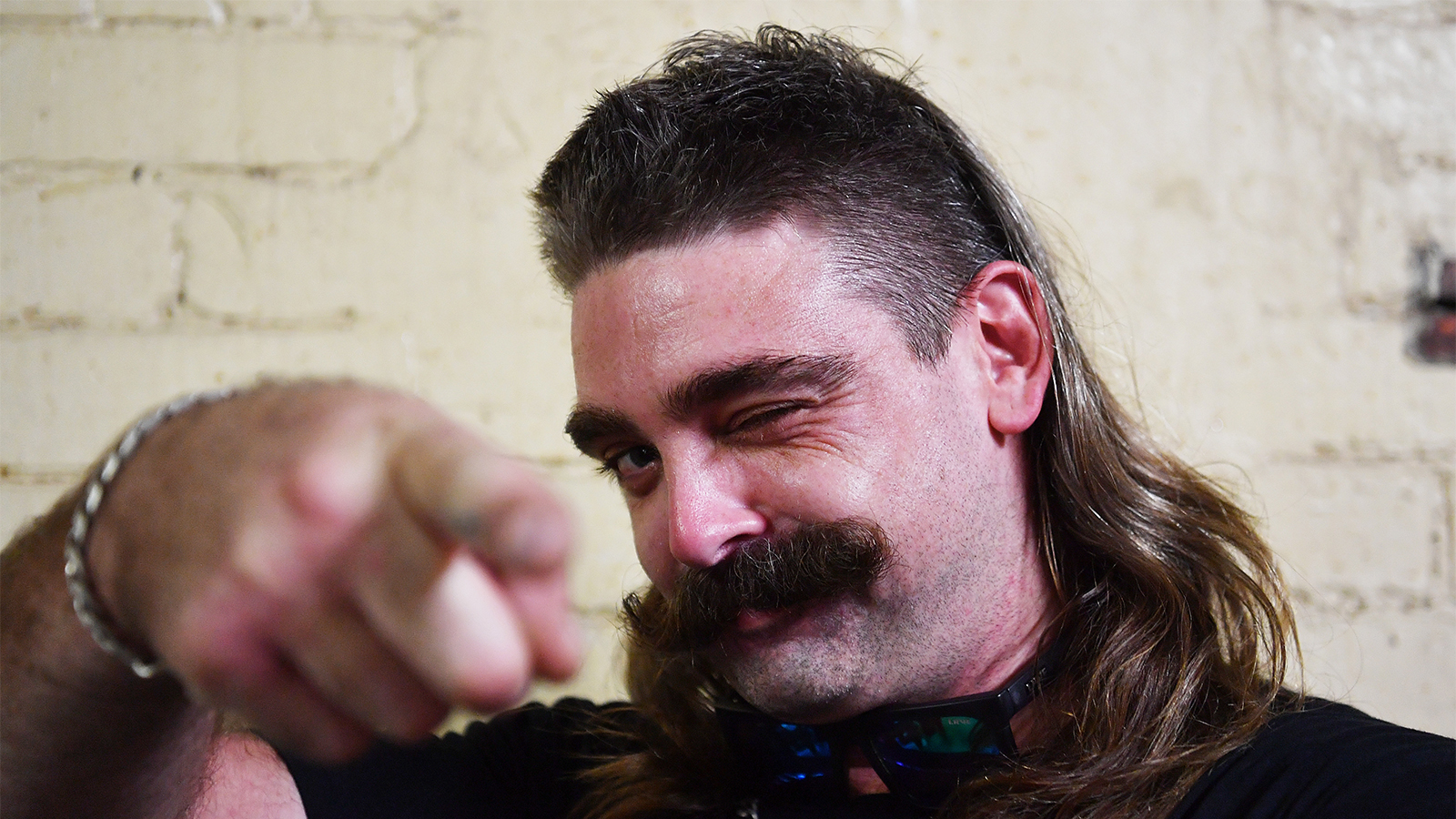 Up Next
From ancient Greek spearman to Mr. Exotic, America's most notorious big cat owner, the mullet seems destined to stick around and around.
---
Related Articles
Sources
Chapman, Lynne. "Hairstyles for Large Women." BellaOnline. 2010. (Sept. 11, 2010) http://www.bellaonline.com/articles/art30408.asp

"Face Slimming Hairstyles." SheKnows.com. 2010. (Sept. 11, 2010) http://www.sheknows.com/beauty-and-style/articles/800873/hair-styles-that-will-make-you-look-thinner

"Haircuts with Bangs for Round Faces." Fashion Castel. Aug. 28, 2010. (Sept. 11, 2010) http://www.fashioncastel.com/haircuts-with-bangs-for-round-faces.html

Hayes, Rachel. "Face Slimming Hairstyles." Daily Makeover. April 14, 2010. (Sept. 11, 2010) http://www.dailymakeover.com/blogs/now-thats-a-makeover/2010/04/face-slimming-hairstyles.html

"The Right Hairstyle for Your Round Face Shape." TheHairStyler.com. June 4, 2009. (Sept. 11, 2010) http://www.thehairstyler.com/features/articles/hairstyles/the-right-hairstyle-for-your-round-face-shape