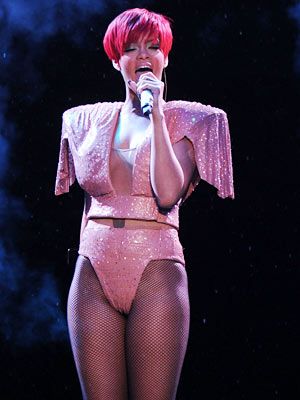 Bryan Bedder/Getty Images
Each year, compulsive shoppers everywhere must make tough choices as their closets overfloweth -- with past trends one cannot imagine will come back around, and just plain strange choices that seemed appealing at the time. It's important to make room for tomorrow's styles. It's equally important, though, to plan for potential trends that are years in the future, even a couple of centuries. Our great-great-great-granddaughters would surely thank us for it. Knowledge of trends that might pop up in 2200 is tough to come by, but one excellent source is sci-fi. After all, they were right about digital ink, supercomputers and robots. And in so many cases, their fashion predictions have made the (sometimes unfortunate) jump into present day, usually on the singer Rihanna (pictured above). Which future fashions have already come to pass? And which past fashions might we want to store for our progeny? Well, this first one might surprise you, but "Mad Max" really does bear it out -- and who are we to argue?
Eric Charbonneau/Le Studio/Wireimage/Getty Images
The '80s gave us shoulder pads. Tina Turner gave us SHOULDER PADS. Turner's 1985 "Mad Max: Beyond Thunderdome" character, Aunty Entity, wore the stuff of chain-mailed football players, shoulder pads rising half a foot upward and outward. Tina Turner, being Tina Turner, did make it work, and the scaled-down versions were an '80s staple. They have even, for better or worse, made a comeback, although more often on runways and red carpets than on the street (in this case, on actress Jennifer Connelly). We think this is a good thing.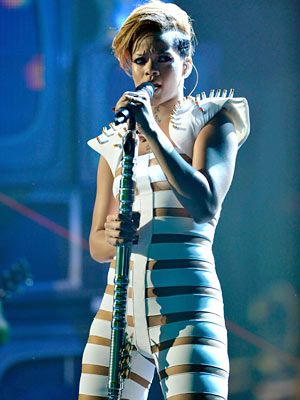 Kevin Mazur/AMA2009/WireImage/Getty Images
Set a couple hundred years in the future, 1997's "The Fifth Element" brings us a noteworthy trend through Leeloo, Milla Jovovich's orange-coifed, ancient, ass-kicking empath who enchants a gruff cab driver (Bruce Willis) into helping her save the world. Sporting several WOW outfits through the film, perhaps the most titillatingly bizarre, trend-inspiring one is her Gautier-designed suit of strategically placed white bandages. The future, it seems, is very sexy. And kind of medical. Today, you'll see scaled-down bandage wear in the stores, as well as off-the-wall wrappings on stage.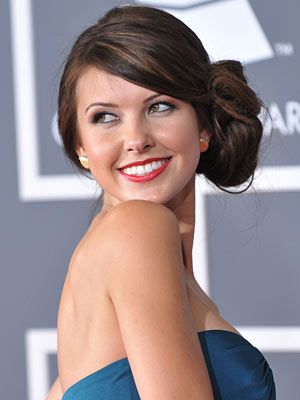 Jon Kopaloff/FilmMagic/Getty Images
When the world first met Carrie Fisher's Princess Leia in "Star Wars" in 1977, it was most likely struck by one thing: her buns. Her hair buns, that is (the gold bikini scene came later). Those double side buns were so odd at first, but somehow, we came to accept them. Even like them. So much so that side buns became something of a craze -- though usually in single form. (At least until Queen Amidala in the prequels. And Halloween.)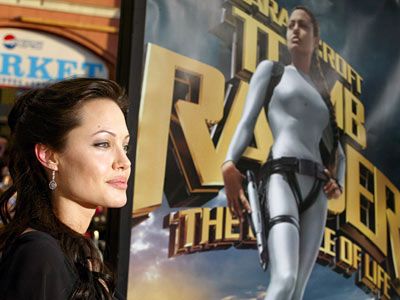 Kevin Winter/Getty Images
Before "The Terminator" in 1984, most female leads, even in action films, were decidedly dainty. And then came Linda Hamilton, playing Sarah Connor, the young, hot mom of the world's future savior, and guns were suddenly gorgeous. We're talking about muscles here. Connor was built in every way, and she showed off her well-developed biceps, triceps and lats in tank tops throughout the film. You could practically hear the world's female athletes erupt in applause. The toned trend has continued on-screen, spilling over to the red carpet along the way (demonstrated in this case by Tomb Raider Angelina Jolie).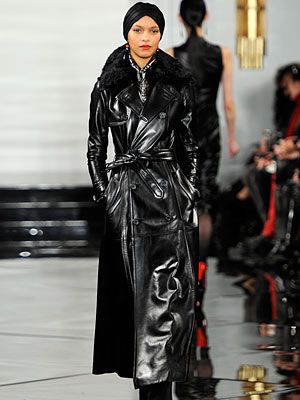 Fernanda Calfat/Getty Images for IMG
Cows clearly stay an oppressed underclass for centuries to come, since leather – especially black leather -- is a future staple. It's featured prominently in sci-fi films ranging from "Mad Max" to "The Terminator" to" X-Men," and it runs the gamut from tight and sexy to casual and distressed. But few films can challenge "The Matrix" in black-leather trends: Those floor-length coats were the epitome of calm, dark and dangerously cool.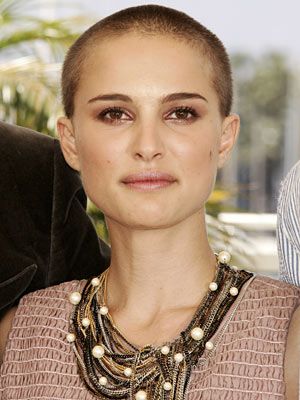 Pascal Le Segretain/Getty Images
The female scalp is not a body part you often see in feature films, let alone on pretty female leads in those films. But man, did Sigourney Weaver pull it off. Weaver's "Alien" character, Ripley, was as tough as they come. So tough that in "Alien 3," she had to get rid of her hair, which for unfortunate and scary reasons was getting in the way of her ass-kicking. Luckily, she had a really nice skull. The look has popped up in movies since then, notably on Demi Moore in "G.I. Jane" and Natalie Portman (pictured above) in "V for Vendetta," where the bald-lady look once again became oddly compelling. It's a tough look to do well, but when it succeeds, it's an impressive display of beauty.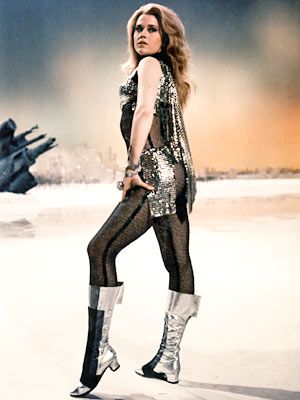 Archive Photos/Getty Images
Sure, they were a fad before Star Trek's Commander Uhura (aka Nichelle Nichols, originally) walked onto the screen, but we love that in the future, smart, professional women go to work wearing go-go boots and miniskirts and face very few, if any, cat-calls from male co-workers. Go-go-style knee and over-the-knee boots appear not only on Star Trek personnel but also on many an alien female. Other booted sci-fi ladies include Barberella (pictured above), Queen Amidala and Trinity ("The Matrix"). It would appear women in the future still have a thing for boots. (Yay!)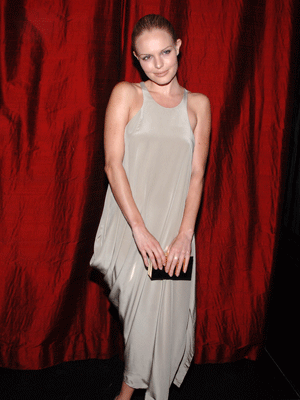 Andrew H. Walker/Getty Images
What possessed the military-uniform designers for the 13 Colonies to dress their people in reverse racerback tanks is unclear. Perhaps they were trying to make soldiers like Starbuck a bit less appealing to their male cohorts. And while Starbuck does somehow retain her bad-girl sex appeal despite the unfortunate halter-gone-wrong look, we don't recommend it for anyone else. Luckily, the limited reflection of this look in the 21st century is much more subtle -- almost flattering. Sometimes.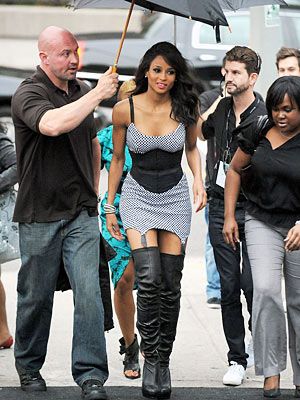 Gustavo Caballero/Getty Images
Bet you never thought lingerie would be the futuristic-tough-girl uniform in zombie-infested America. But then, when Milla Jovovich is the futuristic tough girl (and she so often is), it does kind of make sense. Alice's "Resident Evil: Extinction" look is torn-up, tiny, fatigue-type shorts with completely visible garter-style stockings. Not, perhaps, ideal ass-kicking wear unless you're fighting zombies in the future, and we don't recommend it for anyone fighting zombies in the present. But Milla did, as usual, make it look not only good, but also oddly non-lady-of-the-night.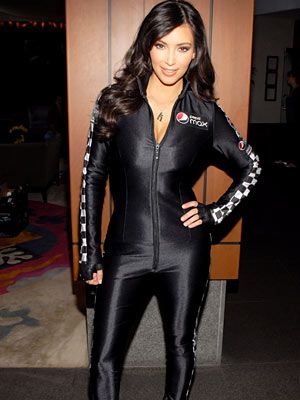 Michael N. Todaro/FilmMagic/Getty Images
It's no secret that shiny spandex, and the perfect figure required to wear it, is as prevalent in the future as it was in '70s. It's possible Olivia Newton-John wore it as well as Seven of Nine in "Star Trek: Voyager." But what so many of us forget, or perhaps never knew in the first place, is that Erin Gray, aka Wilma Deering, wore it with such religious fervor in "Buck Rogers in the 25th Century" she must be given credit for the futuristic fashion statement. Its wisdom is questionable, but in fairness, she had the body for it, and boys everywhere went gaga for the look -- much as they do now when Kim K. (pictured above) paints it on. For more fashion trends, take a look at Top 10 TV Style Trendsetters.