The wide availability of over-the-counter (OTC) drugs can make them seem deceptively safe. If they're marketed as drugs for children, then they must be pretty harmless, right? Wrong. The FDA has no recommended guidelines for the use of any OTC medication on babies other than pain relievers. The cutoff for many children's medicines is 2 or 6 years old and up. If your child is younger than that, it's important to be extremely cautious when it comes to administering medicine. If you're breastfeeding, the drugs you may be taking can have health risks for your child, too.
These 10 common medicines are bad for baby, and you should be on the lookout for them in any of the products you buy, regardless of the manufacturer or product name. Become an expert at reading product labels -- especially ingredient lists -- and if you can't get the information you need from the product's labeling, ask your pharmacist or call your pediatrician. Never guess. Many medicines administered to infants have side effects that you should evaluate and understand thoroughly before choosing to use them, too. Sometimes, a little cough or some discomfort is preferable to the risks involved in using strong medicines to treat common childhood illnesses.
Codeine is an example of a drug you wouldn't consciously give an infant without the express approval of your pediatrician, but it could transfer to your child while breastfeeding. There's always the chance that what you ingest will get into your breast milk, so make sure any medications you take will either stay out of your milk or be safe for your baby.
Codeine can be an ingredient in prescription as well as non-prescription medications. It's a narcotic pain reliever sometimes prescribed to nursing mothers. The liver metabolizes codeine into morphine, and some women can have high levels of this metabolized morphine in their breast milk after taking codeine medications. Women who metabolize codeine quickly (ultra-rapid metabolizers) may transfer dangerous amounts to their nursing babies. Although codeine has been given to nursing mothers for years and is still prescribed in some circumstances, the FDA has had concerns about it since 2007, citing warning signs to look for in babies who may be ingesting unsafe levels of morphine in breast milk. They include:
sleepiness (babies who are breastfeeding typically nurse on a two to three hour schedule and shouldn't sleep more than four hours in a row)

listlessness or difficulty breastfeeding

trouble breathing

limpness or unresponsiveness
If you notice these symptoms, contact your baby's doctor or obtain emergency assistance immediately.
There's a strong link between aspirin (and other salicylates) and Reye's syndrome, a potentially fatal neurological disorder. This is particularly true in children under the age of 16. Although instances of Reye's syndrome in children and adolescents have dropped dramatically in the last three decades, it's important to realize that salicylates can be present in over-the-counter drugs, topical products and natural herbal preparations. You may know not to administer aspirin to your child, but before you give any medication, make doubly sure that it doesn't contain salicylates that can be listed with names like acetylsalicylate, salicylic acid, white willow bark or acetylsalicylic acid.
The risk for Reye's syndrome increases if aspirin-containing medications are administered to treat viral illnesses like colds and flu. Medical science recognizes that there's a connection, but hasn't yet discovered what it is. If you have any questions about a medication you want to use to treat your child's respiratory or flu-like symptoms, ask your pharmacist or pediatrician.
8
Cold and Cough Medications
Never treat children younger than two years of age with over-the-counter cough and cold medicines unless specifically directed to do so by your pediatrician. This is the stark warning issued by the FDA in a public health advisory responding to reports of serious side effects in children when taking these drugs. There's research pending on the potential side effects in children between the ages of 2 and 11, and some sources recommend avoiding these drugs altogether if your child is under the age of 6. These medications treat the symptoms of respiratory distress, not the cause, and the risks, even in older children, may outweigh the benefits.
7
Double Doses of Pain Reliever
Some pain relievers, like acetaminophen (baby Tylenol) or ibuprofen (baby Advil or Motrin) are safe to give your infant in moderation for painful conditions like gas, earaches and teething, but pain relievers can also be hiding in preparations you may not expect like cold and cough medicines, upping the risk for dangerous double dosing. In fact, discovering the right dosage and formulation for a child under 2 years of age can be a challenge even if there are no other medications involved. Of course, before you turn to a pain reliever for your baby's symptoms, it's always a good idea to check with your pediatrician.
Special note: Avoid giving acetaminophen to infants under 3 months old or ibuprofen to infants under 6 months old without your pediatrician's approval.
So, you may know better, but when times are tough, you're exhausted, or it seems innocent enough, you may make the mistake of thinking a benign adult medication will be OK to administer to your infant. This can be a poor choice that's never worth the risk. Most adult over-the-counter preparations contain concentrated ingredients, additives and preservatives that may be harmful by themselves or interact with substances your infant is already taking. Whenever possible, rely on products and preparations designed specifically for babies, and if you do have to administer a product that's designed for adult use, check with your doctor or pharmacist first.
This is another drug that may cause problems for breastfeeding mothers and their babies. Originally marketed outside of the United States as a treatment for nausea and vomiting, users noticed that one of the beneficial side effects of domperidone use was increased milk production in lactating women. For women who weren't producing enough milk, domperidone seemed like a worthwhile option. In 2004, the FDA published a warning letter recommending that it not be used, prompted by published reports of cardiac arrest and sudden death in some women taking intravenous domperidone, concerns about its growing importation and use, and a lack of knowledge about the effects of domperidone on breastfeeding infants.
4
Lithium, Cancer Medications and Other Strong Pharmaceuticals
If you want to breastfeed your baby, it's always best to avoid ingesting any more drugs or potentially disruptive or harmful substances than you have to. Many new mothers opt for caution over personal comfort. If you have been diagnosed with an illness that will require drug treatment, consult with your physician and your pediatrician before deciding the best course for your breastfeeding regimen. Coordinating with medical professionals to determine the best way to feed and nurture your baby while protecting yourself is an important step to a healthier family.
You may have an alphabet's worth of drugs left over from the last time you had an infant to care for, but the chances are good that many if not most of those drugs have expired "use by" dates. Before you give any drug to your baby, verify that it's safe to use on an infant, and make sure to check the "use by" date stamped on the bottle. If you can't find or decipher the batch information on the drug's packaging, don't risk it. Even if the drug is within its effective date, inspect the contents for discoloration or anything else that seems off. If it's out of date or looks suspicious, discard it.
2
Drugs that May Reduce Breast Milk Production
Breastfeeding is a wonderful option, but some medications can cause problems, even when they don't make their way into your breast milk. There are drugs that can adversely affect breast milk production. Diuretics can limit the amount of fluid in the breast, while drugs like anti-hypertensive beta blockers can reduce blood flow to the arteries that carry blood to the milk-producing regions of the breast. If you're breastfeeding, make sure your doctor knows, and discuss any drugs you plan on taking in light of your breastfeeding intentions.
Drugs and other sources of chemical contamination can be hiding in plain sight. Evamist is the trade name for an estradiol transdermal spray, an estrogen delivery system to help combat hot flashes during menopause. It's typically sprayed on the inside of the elbow or between the forearm and wrist, prime real estate for doting grandmothers who want to rock and entertain their grandbabies. The FDA sent out a safety announcement about Evamist in July of 2010, warning that children and infants exposed to the drug could experience premature puberty. Males could face breast enlargement while females could show signs of premature breast development and nipple swelling. If someone who comes in regular contact with your child is taking Evamist, she should wear long-sleeved clothing to avoid having direct skin contact with the child near the drug application site.
Evamist is one example of a medication intended for a specific purpose that can have accidental implications for your infant, your pets and other members of your family. Even a discarded nicotine patch that inadvertently comes in contact with a toddler's skin can be dangerous, so it's important to anticipate potential drug threats from conventional as well as unconventional sources.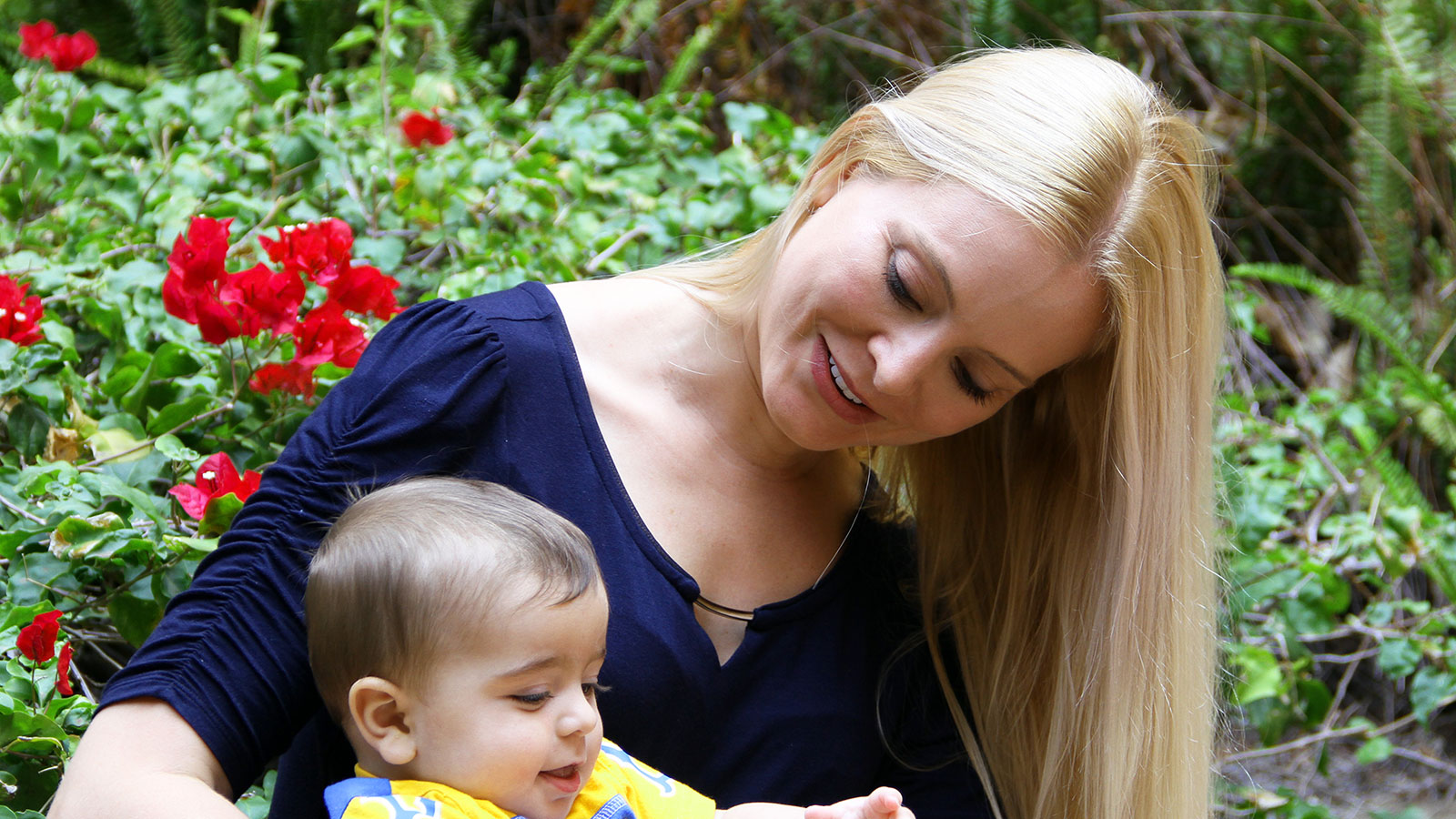 Up Next
HowStuffWorks reports on ChatterBaby, an app developed by a UCLA scientist and mother to take the guesswork out of a baby's cries.
---
Related Articles
Sources
Drugs.com. "Domperidone." Undated. 10/11/10.http://www.drugs.com/cons/domperidone.html

AAFP. "FDA Warns Against Using OTC Cough, Cold Meds in Young Children - Side Effects Can Be Life-threatening." 1/17/08. 10/11/10.http://www.aafp.org/online/en/home/publications/news/news-now/health-of-the-public/20080117otcfdaalert.html

Ask Dr. Sears. "Taking Medications Safely While Breastfeeding." 2006. 10/11/10.http://www.askdrsears.com/html/2/t028500.asp

Baby Center. "Acetaminophen Dosage Chart." 7/2010. 10/11/10.http://www.babycenter.com/0_acetaminophen-dosage-chart_11886.bc

Baby Center. "Nine Medicines You Shouldn't Give Your Baby." 10/08. 10/11/10.http://www.babycenter.com/0_nine-medicines-you-shouldnt-give-your-baby_10862.bc

CDC. "Surgeon General's Advisory on the Use of Salicylates and Reye Syndrome." 7/11/82. 10/11/10.http://www.cdc.gov/mmwr/preview/mmwrhtml/00001108.htm

Consumer Reports. "Babies and Kids Blog - Latest baby and child news headlines." 8/2/10. 10/11/10.http://blogs.consumerreports.org/baby/2010/08/children-medications-breast-feeding-pumping-milk-child-food-allergies.html

DHSS. "Drug Use While Breastfeeding." National Institutes of Health. Undated. 10/11/10.http://www.dhss.mo.gov/dnhs_pdfs/R_NPE_pdimodule_bf_chap12.pdf

Drugs.com. "Cyclosporine Pregnancy and Breastfeeding Warnings." Undated. 10/11/10.http://www.drugs.com/pregnancy/cyclosporine.html

FDA. "Domperidone." 6/19/09. 10/11/10.http://www.fda.gov/Safety/MedWatch/SafetyInformation/SafetyAlertsforHumanMedicalProducts/ucm154914.htm

FDA. "FDA Drug Safety Communication: Ongoing safety review of Evamist (estradiol transdermal spray) and unintended exposure of children and pets to topical estrogen." 7/29/10. 10/11/10.http://www.fda.gov/Drugs/DrugSafety/PostmarketDrugSafetyInformationforPatientsandProviders/ucm220185.htm

FDA. "FDA Drug Safety Communication: Ongoing Safety Review of Evamist (estradiol transdermal spray) and Unintended Exposure of Children and Pets to Topical Estrogen." 7/29/10. 10/11/10.http://www.fda.gov/Drugs/DrugSafety/PostmarketDrugSafetyInformationforPatientsandProviders/ucm220185.htm

FDA. "Public Helath Advisory: FDA Recommends that Over-the-Counter (OTC) Cough and Cold Products not be used for Infants and Children under 2 Years of Age." 1/7/10. 10/11/10.http://www.fda.gov/Drugs/DrugSafety/PostmarketDrugSafetyInformationforPatientsandProviders/DrugSafetyInformationforHeathcareProfessionals/PublicHealthAdvisories/UCM051137

FDA. "Using Over-the-Counter Cough and Cold Products in Children." 10/22/08. 10/11/10.http://www.fda.gov/ForConsumers/ConsumerUpdates/ucm048515.htm

FDA. "Warning for Nursing Mothers Taking Codeine." 8/17/07. 10/11/10.http://www.fda.gov/ForConsumers/ConsumerUpdates/ucm048740.htm

FDA. "Warning Letter - Domperidone." 6/7/04. 10/11/10.http://www.fda.gov/downloads/Drugs/GuidanceComplianceRegulatoryInformation/EnforcementActivitiesbyFDA/WarningLettersandNoticeofViolationLetterstoPharmaceuticalCompanies/ucm054620.pdf

Institute of Traditional Medicine. "On Taking Herbs While Breastfeeding." 8/01. 10/12/10.http://www.itmonline.org/arts/breast.htm

Keep Kids Healthy. "Domperidone Warning." 6/15/04. 10/11/10.http://www.keepkidshealthy.com/breastfeeding/domperidone_warning.html

Keep Kids Healthy. "Domperidone Warning." Undated 10/11/10.http://www.keepkidshealthy.com/breastfeeding/domperidone_warning.html

Keep Kids Healthy. "Infant Medicine Cabinet." Undated. 10/11/10.http://www.keepkidshealthy.com/infant/infantmedicinecabinet.html

Kim, Ben. "Cold Medicines Dangerous For Infants And Toddlers." 1/14/07. 10/12/10.http://drbenkim.com/cold-cough-medicine-dangerous.html

Markel, Susan. M.D. "Parents Continue to Give Infants Dangerous Drugs." Baby Center." 1/18/08. 10/11/10.http://blogs.babycenter.com/mom_stories/parents-continue-to-give-infants-dangerous-drugs/

Net Doctor. "Corticosteroids." Undated. 10/11/10.http://www.netdoctor.co.uk/skin_hair/eczema_corticosteroids_003762.htm

Office of National Drug Control Policy. "Disposal of Prescription Drugs." 10/09. 10/11/10.http://www.whitehousedrugpolicy.gov/publications/pdf/prescrip_disposal.pdf

Pharmcast.com. "Warning Letter - Domperidone." 1/8/08. 10/11/10.http://www.pharmcast.com/WarningLetters/Yr2008/Jan2008/Kalchem0108.htm

Pryor, Karen and Gale. "Are There Any Foods I Should Avoid While Breastfeeding." Baby Center. Undated. 10/12/10.http://www.babycenter.com/404_are-there-any-foods-i-should-avoid-while-breastfeeding_8906.bc