Your vintage and heirloom jewelry doesn't have to be made with precious gems and metals to have importance. The most significant jewelry in your collection may have more sentimental than monetary value. Converting some of these pieces into charms is an inspired way to make them part of your regular jewelry wardrobe.
Add a simple, metal backing and glue or solder it to the decorative front of your dad's cufflinks, your gran's hat pin or your mom's broken earring. That way, you can get your sentimental treasures out of a dusty drawer and into the light where they'll be a reminder of good times and important relationships.
Related Articles
Sources
Adeler, Wendy. "How to Recycle, Redesign and Refashion Jewelry." Monkey See. Undated. 7/12/10.http://www.monkeysee.com/play/2086-how-to-recycle-redesign-and-refashion-jewelry

Astaire, Susan. "The Baby Ring and the Baby Circle." Undated. 7/15/10.http://www.thebabyring.com/

Beading Daily. "7 Tips for Redesigning Jewelry." 1/25//10. 7/12/10.http://www.beadingdaily.com/blogs/daily/archive/2010/01/25/7-tips-for-redesigning-jewelr.aspx

Harry Merrill & Son, Inc. "Custom Designs & Redesigns." Undated. 7/12/10.http://www.hmerrill.com/services.asp

Jewelry Insider. "Reset It and Forget It." Undated. 7/12/10.http://jewelry01.blogspot.com/2009/06/reset-it-and-forget-it.html

Laurie's Diamonds. "Redesign Existing Jewelry." Undated. 7/11/10.http://www.lauriesdiamonds.com/catalog/redesign.php

LindArt Jewelry. "Custom Made Designer Jewelry, Repair and Redesign." Undated. 7/11/10.http://www.lindartjewelry.com/

Phipps, Jennie. "Old Jewelry Worth Its Weight in Gold?" Bankrate.com. Undated. 7/12/10http://www.bankrate.com/finance/personal-finance/old-jewelry-worth-its-weight-in-gold--1.aspx

Schaumann, Gretchen. "Vintage Redesign Jewelry - Heading to Cali for the Week-end." 4/21/10. 7/12/10.http://www.junkmarketstyle.com/item/6694/vintage-redesign-jewelry-heading-to-cali-for-the-week-end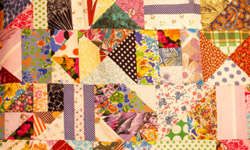 Up Next
Can you identify the 10 most common heirlooms? Learn about the 10 most common heirlooms at TLC Family.
---