1
Things Your Child Will Appreciate as a Grown-Up
Waiting for a baby to arrive offers plenty of time to ponder all the nerve-wracking emotions that come with motherhood. It's a safe bet you'll have plenty of fodder for a blog to document the excitement of pregnancy. Before we get too mushy, though, let us add that there's a decidedly practical appeal to keeping a "before baby" blog: You don't have to work your way into those cliquish scrapbook circles, yet you can still get the same effect. Nor do you need a glue stick. And, it takes much less time.
Another idea? Long before your little darling clears his or her 18th birthday, you can use this time to start a college savings account. Giving your child a debt-free college education gives him or her a leg-up on the real world, one in which he or she won't be stuck paying back massive student loans. After all, this child's future is why you've gone to all the trouble of saving, storing and documenting your family's history in the first place.
Related Articles
Sources
AboutBeanies.com. "Buying and Selling Beanie Babies." AboutBeanies.com. (July 5, 2010)http://www.aboutbeanies.com/Buy_Beanies.cgi

EPT. "Proof Positive: Survey Reveals At-Home Pregnancy Test Trends." TheMakersofEPTBrand.com. June 22, 2010.http://themakersofeptbrand.presslift.com/proof-positive-survey-reveals-at-home-pregnancy-test-trends

Hoffman, Leah. "Popular Toys of the Last 100 Years." Forbes. Dec. 12, 2005. (July 3, 2010)http://www.msnbc.msn.com/id/10387831/

Kanamori, Miyako. "Sock and Glove." May 2007. HPBooks.

"Creating an Heirloom."http://weddings.weddingchannel.com/wedding-planning-ideas/wedding-fashion/articles/creating-an-heirloom.aspx

Stacy, Allison. "Heirloom Hints." Genealogy.com. (July 3, 2010)http://www.genealogy.com/84_stacy.html

Swain, Heather. "Make These Toys." July, 2010. Perigree Press.http://heatherswainbooks.com/make_these_toys_exc%20.php

Totten, Andrea. "Handpainted Furniture is an Heirloom Waiting to Happen." BabyShopMagazine.com. (July 5, 2010)http://www.babyshopmagazine.com/past/bss998.htm

World's Simplest College Cost Calculator. SavingForCollege.com. (July 5, 2010)http://www.savingforcollege.com/college-savings-calculator/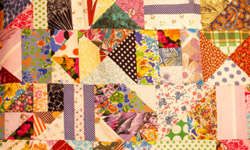 Up Next
Can you identify the 10 most common heirlooms? Learn about the 10 most common heirlooms at TLC Family.
---