Kids are the original outside-the-box thinkers.
Just try stopping them from exploring, experimenting, testing the rules or asking questions. Any good book of parenting tips will tell you to encourage such curiosity.
Unfortunately for grown-ups, however, when you have to confine the little ones to a box, like a moving vehicle on a long road trip, for instance, their inquisitiveness can soon put your parenting skills severely to the test. After all, who's not familiar with the irritating back-seat refrain of "Are we there yet?"
Fortunately, parents or any adults who must safely ferry kids from point A to point B have a near limitless number of options for keeping everyone safely occupied during the trip.
Some of these options might require a significant outlay of cash -- for example, electronic games and gadgets. But you can also make it peacefully through a road trip with your wallet or purse unscathed, using diversions of the imagination such as reading, coloring books and games.
In this article, we'll take a look at 10 favorite road trip boredom busters to keep the kids stimulated, entertained or at least occupied while keeping the adults sane.
Television screens are everywhere these days -- on our cell phones, in elevators, on airplanes, in public restrooms, on our portable movie players, and of course, inside our cars, trucks and minivans, too.
If you're going on a particularly long trip, it's almost a no-brainer to bring along a supply of kid-tested and approved television shows and movies. You'd be surprised how quickly the drive time will pass for even the most finicky of rear-seat passenger once the on-screen entertainment begins. One caveat: To ensure vehicular peace, make sure that the screen (or screens) is placed so that all kids can see it from their vantage point. And don't forget the audio headphones for the kids if you're really searching for complete silence up front.
These range from simple "pocket pets" style digital games that fit on a keychain to full-size gaming systems installed in your vehicle. In between, you have handheld electronic games, dedicated gaming devices and games that can be played on cell phones. While video games may not be the most creative thing children can be doing, they're at least interactive. Perhaps more importantly, any mayhem is confined to the small screen rather than the back seat of your car [source: CNET].
However, you don't necessarily have to lug around portable electronics, movie cases and an assortment of new batteries when you hit the road. For some ideas on free in-car entertainment, go to the next page.
No. Not bingo -- lingo. And while this one is pretty simple, it can still be plenty of fun -- depending on the player's imagination, that is.
In this game, kids take turns explaining the meaning of the letters on selected cars' license plates. For instance, "OEF" might stand for "Onion-Eating Fanatic" or "Original Elephant Farm." Make it a contest where the winner is the person who comes up with the funniest, most ridiculous or most complicated expanded acronyms after a given number of rounds [source: Van Kirk].You'll probably be surprised by what your kids can come up with during this one!
Remember the "Slug Bug Game?" someone spies a Volkswagen Beetle (old version or new), declares "Slug Bug Green" (or whatever color it happens to be), and earns the "right" to punch the other person in the arm. Also known as "Punch Buggy," it's a game that requires keen observation, speed and a good sense of humor while being slugged in the arm.
Now, some kids may think it's also a competition to see who can punch the hardest. And that's definitely not the case. However, if your rambunctious kids insist on playing the game that way, feel free to make an in-car rule that Bug sightings are to be celebrated with no more than a very firm prod.
For more ideas for free mobile entertainment, go to the next page.
Here's how this one works: One person thinks of the name of a current celebrity, famous person from history, cartoon or other character, preferably one with a first and last name. The next person must then come up with a different personality whose first name begins with first letter of the previous character's last name. Say what? OK, here's an example:
Kid One: "Megan Fox"
Kid Two: "Freddie Prince Jr."
Kid Three: "Peter Parker"
Kid One: "Patrick Star"
Kid Two: "Shelley Duvall"
Kid Three: "Don Quixote"
Participants must agree by majority on the legitimacy of any stated character. If someone fails to come up with a name (perhaps assign a 20-second time limit), then that person is out of the game.
5
The Quiet Game / Last Word Game
Who says a game has to be noisy or raucous in order to be fun? The quiet game challenges competitors to be the quietest, the longest. This game follows in the childhood (and yes, childish) tradition of the back-and-forth argument ("Did not. Did too. Did not," and so on). The exception is that each time someone says "did not" or "did too," it has to be stated softer and take a little longer to utter than the person who went previously. The idea is to say it so softly that the other person completely misses it, at which time you've won. Loud outbursts automatically lose the game for whoever makes them [source: BBC].
To find out how to banish the words "Are we almost there yet?" from your kids' vocabulary, read the next page.
This activity lets kids answer for themselves the question "Are we almost there?" Armed with a map, their skills to observe the city names on highway exit signs and perhaps a peek at the GPS navigation system, the little ones can know at all times how much farther there is to go.
To make it a little more interactive, you can print out the map from a site like Google Maps or MapQuest, and encourage your kids to mark off the various cities you pass and fill in the route with colored pencils or crayons as you continue your drive.
Who can locate the most animals during the trip? Any creature that moves (or once moved) can be fair game, so to speak: deer, livestock, birds (get them to name specific types), road kill and even sun-dried insects caught between the dashboard and windshield can be counted. Make this as competitive or non-competitive as the situation warrants -- perhaps put up a small prize to encourage everyone to participate. You might even want to appoint someone to write down who said what, just so you know who gets the prize at the next rest stop.
But even imaginative kids can get bored of mind games after awhile. On the next page, find out how to offer some inexpensive incentives to keep them playing.
In the old days, a stern "Don't make me have to come back there and settle it!" was more than enough to silence unruly backseat behavior. But in more modern times, our society looks much less favorably on in-car threats like these -- even though the intent was simply to keep the peace.
One alternative is to offer an incentive for good behavior: the proverbial carrot instead of the stick. Usually you can pick up some type of inexpensive toy from a highway rest stop, and with a little luck it'll be enough to keep the recipient busy in play until you reach your final destination -- or at least the next stop [source: Ogintz].
We're not suggesting you encourage underage drinking by breaking out in a chorus of "Ninety-Nine Bottles of Beer on the Wall." But you can have fun belting out other, more age-appropriate tunes as a group. There are plenty of available CDs in the "Kids Music" section of your local music store. And if you have a satellite radio subscription, you can even tune in to a kid-centric channel.
So next time you have to drive a great distance and wonder how you'll keep your loving little balls of energy from driving you crazy -- don't panic. Just remember that with a little creativity, inclusion and not all that much cash, you actually can make getting there almost as great an experience as the destination itself.
For more ideas about how to entertain kids on a road trip as well as other related topics, follow the links on the next page.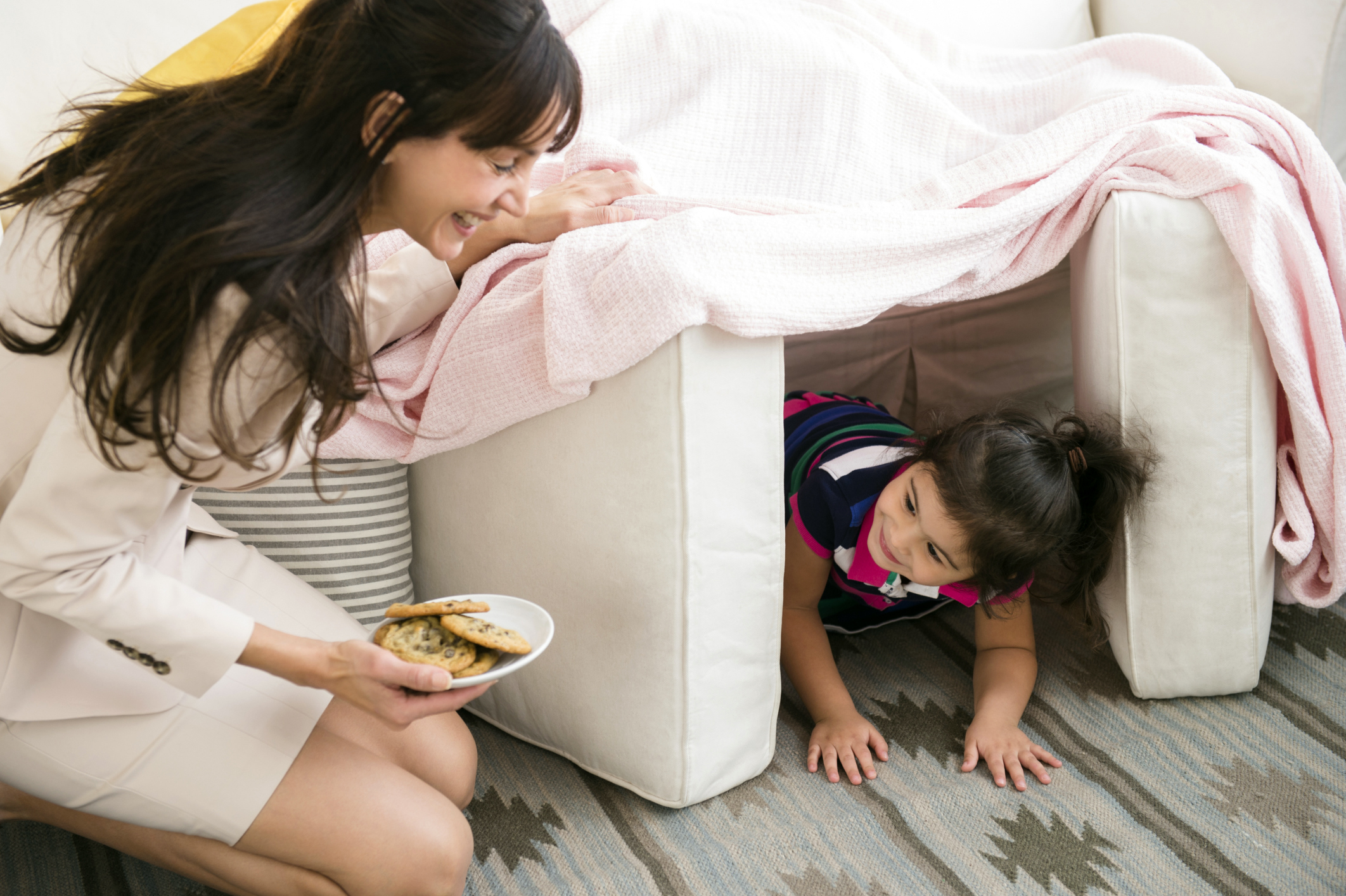 Up Next
Forts are fun for kids and adults. See 10 forts to build with kids to create the ultimate play experience.
---
Related Articles
Sources
BBC. "Things to Keep Children Amused on Long Journeys." Aug. 18, 2000. (Feb. 10, 2010) http://www.bbc.co.uk/dna/h2g2/A397398

CNET. "Kids in tow: get the gear you need." (Feb. 8, 2010) http://www.cnet.com/1990-11212_1-6460560-1.html

DeMarco, Peter. "Car games still speed long trips." Boston.com. May 24, 2009. (Feb. 10, 2010) http://www.boston.com/cars/news/articles/2009/05/24/car_games_still_speed_long_trips/

Ogintz, Eileen. "Surviving (maybe even enjoying) a road trip." MSNBC. July 9, 2009. (Feb. 12, 2010) http://www.msnbc.msn.com/id/31804799

Van Kirk, John. "25 Travel Games for Children." Travel Answer Man. Dec. 18, 2009. (Feb. 10, 2010) http://www.travelanswerman.com/Blog/?p=2116