Petal Posies
These Petal Posies are pretty as a picture. Do this spring decoration craft project any time of the year.
What You'll Need:
Download these patterns as a PDF and print them out. Then trace them and cut out the following: 2 round flowers from light blue felt, 2 round flowers from lavender felt, 2 pointed flowers from pink felt, and 6 leaves from green felt.
Have an adult help you cut the foam balls in half with the serrated knife. Paint 3 foam ball halves with yellow paint; discard the remaining ball half. Let paint dry, then apply another coat.
Glue the flat side of a ball half to the center of 1 blue flower. To give the flower a dimensional look, apply a line of glue around the very bottom edge of the foam ball and bend up the petals around the ball. Hold until set (be careful, glue can be hot!). Repeat for 1 pink flower and 1 lavender flower; set aside the other flowers.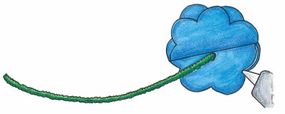 Use a hot glue gun to glue thepetals to the chenille stem.
none
To make a flower stem, glue 1 inch of one end of a green chenille stem to the back of the blue felt flower. Align the edges of the flower with the other blue felt flower piece, sandwiching the chenille stem between them. Apply a line of glue between the layers near the edge, then press the edges together. Repeat for the pink and lavender flowers.
Add veins on the leaves with green dimensional paint; let dry. Glue 5 leaves to 3 flower stems; set aside the remaining leaf.
Add sprigs of gypsophila among the flowers. Make a bow out of the matching ribbon. Wrap the remaining chenille stem around the middle of the bow, then wrap the chenille stem around all the flower stems. Twist the chenille stem ends together in the back, then trim and fold over the ends. Glue the remaining leaf to the back of the uppermost flower.
For more fun activities and crafts, check out:
ABOUT THE CRAFT DESIGNERS
Pressed Spring Ornaments by Lisa Lerner and Kersten Hamilton