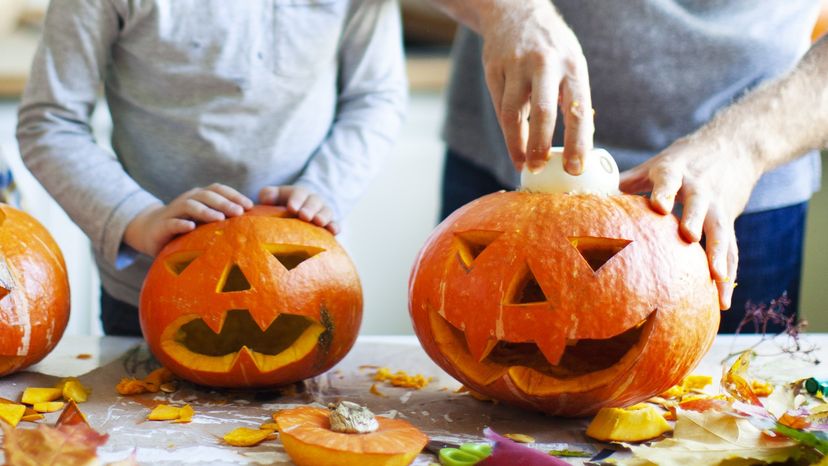 Halloween is a time for thrills and scares, tricks and treats, good fun and games. The Halloween crafts in this article can help with decorating for the holiday, throwing a party, dressing up, feeding your friends, and just having fun. Browse below to see what's in this article. Be careful, though -- even though these crafts are for kids, some will give you the chills!
Make this mummy pin to wear on Halloween or to decorate your costume, backpack -- or anything else!
Dangle a bunch of these Spooky Spiders from the ceiling at Halloween and get everyone in the mood -- the mood to be scared!
Freak out your friends by making these Baked Witch's Fingers and serving them up fresh at your Halloween party.
For another frightening Halloween food, make up a batch of Blood-Red Eyeballs -- if you dare!
Make just one masterpiece of a monster, or make a whole monster family. Check out this fun Halloween craft project.
You will really have a blast terrifying your friends when you make this Really Haunted House -- really!
Your friends won't want to stop playing this game on Halloween -- unless they're scared of ghosts!
What do you get when you cross Ping-Pong, Halloween, and a fun craft project? Spider Ball!
Make them silly, scary, horrible or hilarious. Design your own monster with this creative Halloween craft project.
Create a mystical, mysterious mood at your Halloween party with this miraculous Magic Glove.
Get messy with powdered sugar playing this fun and funny Halloween game.
For a hair-raising refreshment, make this yummy punch, with a realistic looking hand floating in it.
Go on a bone hunt this Halloween. Then, turn it into a craft project and let your friends paint the bones they find.
Take ordinary bags and turn them into Halloween fun with this craft.
This Halloween host a party that will get everybody in a haunting mood.
This silly spider will add a whimsical touch to your Halloween decorations.
You'll have bats in the belfry -- and everywhere else -- after you complete this awesome craft.
For more fun activities and crafts for kids, see: