Halloween Hood
This Halloween hood is not only a parent pleaser, but it's fun to wear!
What You'll Need:
12x18-inch piece of gray felt
Black marker
Blunt scissors
Fabric glue
Pink felt
Two buttons
Needle
Gray thread
Six pipe cleaners
Make a mouse costume with this hood. Fold the gray felt in half horizontally. Refer to the illustration to draw the hood, tie strings, and ear patterns on the felt. Follow the dimensions shown. Cut out all the pieces.
To make the hood, bring side A and side B of the hood piece together and glue them at the seam. Let the glue set. Cut a hole in each front corner of the hood. Thread the tie strings through the holes and tie the ends in a knot.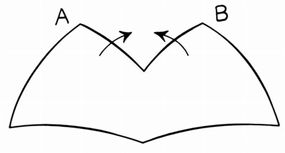 Bring sides A and B together as shown here.
Glue the gray felt ears on the hood. Cut two inner ear pieces from pink felt and glue the pieces to the gray ears. Sew 2 buttons on the hood at the front rim for the eyes. Glue three pipe cleaners on each side for whiskers.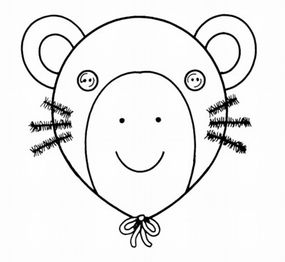 You can now decorate the hood with felt ears,button eyes and even whiskers!
The best Halloween costume is one that's all your own. Read on to find out how you can make a unique mask that no one else will be wearing.
For more fun holiday activities and crafts, see: