Christmas 'tis the season to be jolly! Decorate your house or your tree with easy Christmas crafts for kids: these funtastically fuzzy ornaments! Use chenille and metallic tinsel stems to create snowmen, angels, candy canes, and more.

Snowman Ornament
Snowman Ornament
To make this simple snowman, glue 3 poms together and add a few snowman details with chenille stems and wiggle eyes.
This little guy is glued to a mini clothespin and can be hung on a Christmas tree, tied onto a present, clipped onto a coat or scarf -- or anything else you can dream up!

Angelic Ornament

Angelic Ornament
What You'll Need:
1 bump chenille stem
scissors
glue
1 pom, 3/4 inch
2 metallic stems, 6mm each
2 wiggle eyes, 3mm each
1 pom, 3mm

Cut a 2-bump piece from the bump chenille stem. Fold this piece in half, and twist the ends together. Fold over 1/2 inch of the folded end to eliminate the pointy look.

Glue the 3/4-inch pom to the other end. This is the angel's head.

Bend a metallic stem into the shape of 2 wings. Glue the wings to the back of the chenille bump, just below the pom.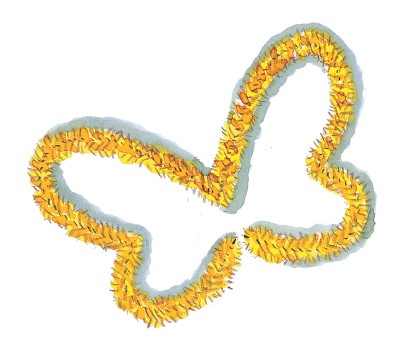 Bend the stem into wings.
Cut a 2-inch piece from the remaining metallic stem. Bend it into a circle with about 3/4-inch overlap. Bend the overlapping piece down, and glue it to the back of the pom, creating a halo.

Bend the stem down to create a halo.
Glue the wiggle eyes and 3mm pom onto the head to create the angel's eyes and nose.

Candy Cane Ornament

Candy Cane Ornament
These cute little candy canes are easy to make! Either twist together red and white stems and bend the ends into a hook, or -- even easier -- buy pre-twisted stems!

Keep reading to learn how you can bring Santa's reindeer to your house this Christmas.

For more fun activities and crafts for kids, see: